Exclusive
Tori Spelling's Husband Ripped Apart In Explosive Court Filing By Concerned Ex-Wife: 'Dean McDermott Is Medicating Himself' With 'Cocaine, Alcohol, Anti-Depressants & Prescription Drugs!'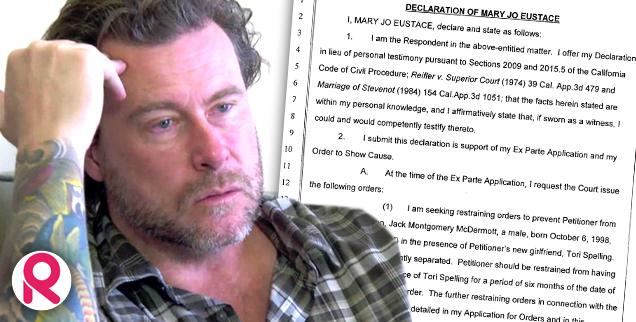 How much more can Tori Spelling take? As the actress confronts cheating husband Dean McDermott's alcoholism and drug use on her reality television show, True Tori, RadarOnline.com has learned that her marriage is about to be rocked by still more scandalous allegations about McDermott's issues.
According to court documents exclusively obtained by Radar, McDermott's first wife, Mary Jo Eustace, previously accused him of cocaine use, out-of-control spending, anger issues and even brutally beating his own dog!
Article continues below advertisement
McDermott infamously dumped Eustace after meeting Spelling during a television movie shoot in 2005 and immediately beginning an affair — despite the fact that both were married at the time.
Both couples eventually divorced, and in a sworn declaration filed by Eustace after the split, she rips the lid off of her life with McDermott long before Spelling was on the scene.
According to Eustace's sworn 2005 declaration, she said, "In March 1999, I went to my parents for a family gathering with Jack her son with McDermott, who was an infant at the time."
READ The Shocking Allegations By McDermott's Ex-Wife
She claimed McDermott "missed the gathering because he didn't feel well. During the course of the event, Dean McDermott walked into the living room, threw a bag of cocaine on the table and said, 'I have a cocaine problem .'"
"Dean started crying uncontrollably and was shaking and said that he should go to the emergency room," she claimed. "I was able to calm Dean McDermott down. Dean McDermott told me he had used cocaine when he was in the house alone with Jack."
Article continues below advertisement
"I called a friend who had a cocaine addiction, who helped Dean McDermott get into a support group," she continued. "Dean McDermott committed to the support group and controlling his addiction to cocaine … for a while."
After returning to their Canadian home after a trip in April 1999 with Jack, Eustace revealed, "When I returned home from the airport, all of the doors and windows were open. My immediate thought was that there had been some type of party at the house and Dean McDermott was attempting to air out the house. Dean McDermott told me he had started using cocaine again and that he had a party at the house while I was away ... At the time, Dean McDermott told me he was attending ALANON through the spring of 1999 and that he had stopped using cocaine during that time."
Among the other shocking revelations in Mary Jo's declaration, she said, "During our marriage, I have been required to control our finances as a result of Dean McDermott's serious impulsive spending issues and lack of responsibility in connection with payment of taxes and other financial commitments."
Regarding McDermott's parental skills she claimed, "There are many examples of Dean McDermott's lack of patience in parenting Jack which I will set forth in further detail at a later time."
Article continues below advertisement
After the divorce proceedings had begun, McDermott claimed, "Dean McDermott stated, 'Don't think my decision to divorce you is related to the fact that I am taking anti-depressants. In fact, I've cut down to one-half the dose I was taking when I started them.'"
"As a result of my knowledge and experience in connection with Dean McDermott's prior use of cocaine, alcohol and anti-depressants/prescription drug medication," she said, "I believe Dean McDermott is medicating himself without the supervision of a doctor and that this is one of the recent causes of his recent erratic behavior."
Like Spelling has done on her show, Eustace admitted to ignoring "the red flags" in her relationship with McDermott. At the "end of our first date," she said in the documents, "I noted his awful temper. We had a lunch date, and afterwards went to his house in Toronto to feed his dog. The dog had gotten into the garbage. Dean McDermott repeatedly and violently beat the dog with his fists and with a rolled up magazine. Dean McDermott was furious and it was very intimidating incident for me to witness."
The divorce between Eustace and McDermott was granted on March 13, 2006, after 12 years of marriage. He wed Spelling only weeks later on May 7, 2006. Eustace and McDermott share joint custody of their son, Jack.