Exclusive
Liar, Liar! Dean McDermott Told Tori Spelling MONTHS AGO He Cheated With 5 Other Women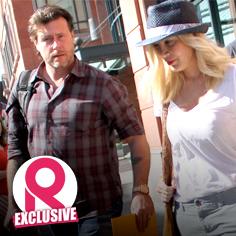 That's a handful, literally.
On Tuesday night's True Tori special Tori Spelling claimed she didn't know if Dean McDermott had cheated on her with more than one woman because she didn't want to know the answer, but RadarOnline.com has exclusively learned he told his actress wife months ago that he had sexual trysts with at least five other women.
Spelling didn't "want to reveal on camera that Dean had been with other women, it would have just been to humiliating for her," a source told RadarOnline.com.
Article continues below advertisement
"Dean had told her months ago, while in rehab that he had been with at least five other women. It had to be addressed and dealt with or else the marriage didn't stand a chance."
Spelling was going to ask McDermott on camera whether he had cheated with other women besides Emily Goodhand, but she ultimately told host Brooke Anderson it wasn't the right time.
Indeed, RadarOnline.com previously reported that Dean admitted to his wife of eight years while in rehab that he cheated with other women.
"He was forced to finally admit the truth to Tori," the insider previously said.
"Making matters worse, Dean admitted to not always using protection during the encounters. It's the ultimate betrayal for Tori and she probably won't be able to ever forgive him for that. It's one thing to cheat, but another to have unprotected sex."
Spelling did address the accusations of bad karma, as both she and McDermott had originally cheated on their respective spouses to be with each other. "What happened was hurtful to other people," she said, "but you can't help when you fall in love with someone."
Article continues below advertisement
Later, the ex-Beverly Hills 90210 star, 41, said she felt bad for 47-year-old McDermott¹s first wife, Mary Jo Eustace, however, "I don't see it as I broke up his marriage, that was his decision.
"I knew he was married and I was thinking this was wrong but we fell in love — there was that connection, it was instant. But I always said at the time, if this should ever happen to me, I don't think I'd blame the woman. I would blame my husband. I still, to this day, I don't blame Emily Goodhand. I blame Dean completely."
Our source adds, "If Tori knew he didn't cheat on her with more than one woman, she would have been able to ask Dean on camera, because that is something that she could brag about it. Or Dean could have just said there was no one else besides Emily Goodhand, but he couldn't because it would have been a lie."