Exclusive
Pushed To Another Woman? Tori Spelling Complains To Friends That Husband Dean McDermott Wants Sex 24/7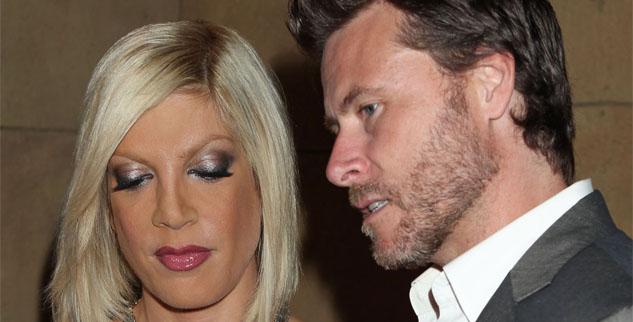 Even before Tori Spelling's husband Dean McDermott had an alleged one night stand in a Toronto hotel room, the former 90210 star had been complaining to friends that the 47-year-old wanted to have sex with her on a daily basis, even after staying up all night with their newborn son, Finn, RadarOnline.com is exclusively reporting.
As Radar previously reported, a 28-year-old Canadian woman named Emily Goodhand claimed she had a roll-in-the-hay with McDermott at the Fairmont Royal York Hotel in Toronto while he was in the northeast for a TV gig earlier this month.
Article continues below advertisement
The mother of four, who was hospitalized in the final months of her pregnancy with son, Finn, has told friends for years that "Dean wants sex from her 24/7. Their sex life when they first hooked up was wild and kinky. Of course, they didn't have children and were very uninhibited," a source close to the couple told Radar.
"Dean would always throw it in Tori's face that their sex life wasn't as hot as it used to be. Well how could it be? They now have four children, and Tori would stay up with Finn all night when he was fussy. The last thing Tori would want to do is have sex, and yet Dean would be ready to go! He even accused Tori of paying more attention to their children!"
Goodhand claims that McDermott, whose been married to Spelling for seven years, told her that he "had a sexless marriage" with his wife.
McDermott was formerly married to Canadian actress Mary Jo Eustace before leaving her for Spelling.
Deep down, Spelling "has always been very insecure about her relationship with Dean….she has been telling friends she always had a deep, dark feeling that Dean would cheat on her," a source previously told Radar.
"She has never completely trusted him and has always kept very close tabs on Dean. But that didn't matter in the end because there's still a published report claiming Dean cheated."
And despite the cheating claims, "Tori has no plans to file for divorce from Dean. She doesn't want her children to grow up in a broken home," the source added.