True Tori: Dean McDermott's New Beginning With Tori Spelling: He Unveils Body Tattoo Of Wedding Vows And Warbles A Song, 'I'm Sorry Forever'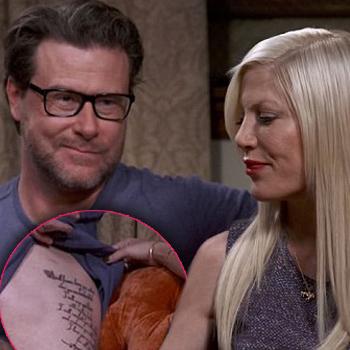 Tori Spelling and husband Dean McDermott have explored the painful aftermath of his two-day affair with Emily Goodhand in Toronto all season on True Tori, but on Tuesday's night's reunion show for the Lifetime reality series, hosted by Brooke Anderson, the troubled couple put up a united front and McDermott had a couple of pleasant surprises for his beleaguered lady love.
First, McDermott pulled up his shirt to reveal he'd had the wedding vows Tori wrote for him tattooed on his left rib cage, the way she'd had his tattooed on her left side. Part of the vows read, "I will wipe your tears with my tiny hands, I will comfort you with my body. I love you, my beautiful boy, for all eternity."
Article continues below advertisement
With Spelling by his side, McDermott told interviewer Anderson, "I've broken these vows and it is a gesture of a new beginning.
"I'll never break these vows ever again."
And at the end of the show, McDermott warbled a song he'd written for Spelling in their back yard, accompanied by a guitarist.
The cheating hubby sang about "broken trust for a dance with lust. Heartache and sorrow's the proof. I'm sorry forever, it's never enough," as they held hands and Spelling smiled beside him.
At the end of McDermott's performance, the couple declared their love for one another.
Token gestures aside, the pair also hashed over a season in which they had angry exchanges over his infidelity.
Spelling said she was happy she did the reality show because the cheating scandal was made public not by my choice.
"It wasn't going away; I decided I wasn't going to let other people talk about my relationship, the former Donna Martin said. "I was going to put it out there."
Article continues below advertisement
But although Spelling was going to ask McDermott on camera whether he had cheated with more women besides Goodhand, on True Tori: The Reunion, she ultimately told Anderson it wasn't the right time.
Spelling did address the accusations of bad karma, as both she and McDermott had originally cheated on their respective spouses to be with each other. "What happened was hurtful to other people," she said, "but you can't help when you fall in love with someone."
Later, the ex-Beverly Hills 90210 star, 41, said she felt bad for 47-year-old McDermott¹s first wife, Mary Jo Eustace, however, "I don't see it as I broke up his marriage, that was his decision.
"I knew he was married and I was thinking this was wrong but we fell in love -- there was that connection, it was instant. But I always said at the time, if this should ever happen to me, I don't think I'd blame the woman. I would blame my husband. I still, to this day, I don't blame Emily Goodhand. I blame Dean completely."
Article continues below advertisement
Many have questioned how the couple let their four kids appear on the show, and Spelling explained that the crew was made up of people they have known "forever," they have fun.
"My kids are really social. I want them to watch the show when they're adults."
Busted… BIG TIME! 12 Hollywood Stars Caught On Camera Cheating!
Meanwhile, McDermott said he hasn't yet been able to watch all the episodes!
He denied that his meltdowns on the show were faked for the cameras: "I wouldn't be anything but truthful. All the reactions were real and honest.
"Depression is very serious -- I have a brain that wants me dead," added the actor, who was rushed to the hospital for mental issues after his affair.
While rumors also spread that the affair was fabricated so the couple could land the reality show, both denied it. "I wish she didn't exist," Spelling said of Goodhand. "I wouldn't wish this upon anyone."
McDermott pointed out that no one can find Goodhand on the Internet because "people get their histories scrubbed all the time; I understand why people would think that, but she exists."
When asked if Spelling could trust him again, the actress said, "I know I won't be able to forget but forgive and move on."
But she refused to answer Anderson's question if they'd had sex since the scandal!
McDermott called himself "a good person who made a really bad choice," and then viewers saw him serenade Spelling to end the show.