Exclusive
Radar Called It! Insider Says Tori Spelling Gives Liam Sweets As Reward For Not Making Scene In Public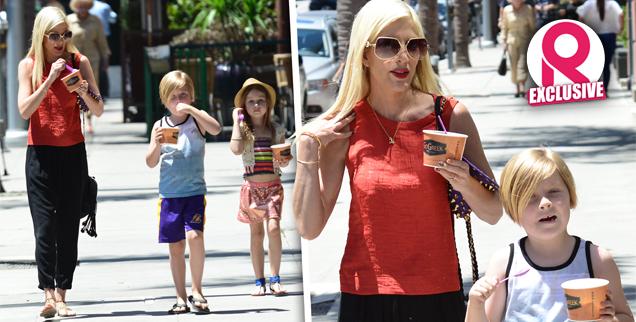 Just days after RadarOnline.com reported that Tori Spelling bribed her son, Liam, with toys and candy in exchange for agreeing to appear on True Tori, the mother of four was spotted with two of her kids enjoying frozen yogurt.
During a trip to the doctor's office with his mom and younger sister, Stella, Liam shielded his face from photographers so as not to be seen, but after surviving what was sure to be a not-so-fun appointment, Spelling treated her two kids to the sweet treat.
Article continues below advertisement
Our source, however, says that Spelling most likely had ulterior motives.
"Tori probably told Liam she would take him for a treat if he didn't act up in front of photographers," the source said. "She knows the paparazzi would love a shot of Liam having a temper tantrum and wants to avoid that, as anyone would."
RadarOnline.com broke the story last week that Spelling's oldest son was pressured by the 90210 star to be a part of the photo. Behind the scenes Spelling reportedly boasted to close friends she had to bribe the little boy with toys and candy to be a part of the show, which disgusted her inner circle.
"It's bad enough Tori decided to do the reality show as she was trying to repair the marriage, but to include the kids was not wise. In recent days, Tori told her close friends Liam was having major issues with appearing on camera, and that she had to bribe him with toys and candy," the insider previously told RadarOnline.com.
"The friends were absolutely mortified and disgusted at the lengths Tori will go to for her career and reality show. Anyone watching the show could clearly see Liam is in distress and having a very hard time dealing with all of the stress in the house. The last thing Liam needs is for a camera to be following him around. It's just creepy."