Exclusive
Tori Spelling's Close Friends 'Disgusted & Mortified' Oldest Son Liam, 7, Was Bribed To Appear On Reality Show About His Dad's Cheating & Addiction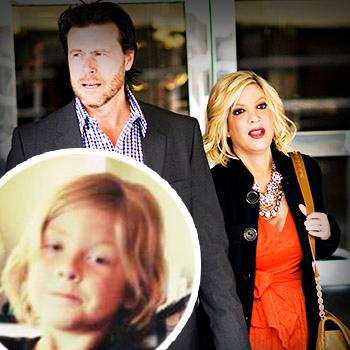 Tuesday night's finale of Tori Spelling's reality TV show, True Tori, concluded with oldest son Liam, 7, refusing to take family pictures with cheating dad, Dean McDermott.
The mother of four's oldest son was pressured by the 90210 star to be a part of the photo, and behind the scenes Spelling boasted to close friends she had to bribe the little boy with toys and candy to be a part of the show, which disgusted her inner circle, RadarOnline.com is exclusively reporting.
Article continues below advertisement
"It's bad enough Tori decided to do the reality show as she was trying to repair the marriage, but to include the kids was not wise. In recent days, Tori told her close friends Liam was having major issues with appearing on camera, and that she had to bribe him with toys and candy," the insider told Radar.
"The friends were absolutely mortified and disgusted at the lengths Tori will go to for her career and reality show. Anyone watching the show could clearly see Liam is in distress and having a very hard time dealing with all of the stress in the house. The last thing Liam needs is for a camera to be following him around. It's just creepy."
Tuesday's final episode began by showing Spelling and McDermott out on a date right before their May 7 eighth wedding anniversary.
McDermott said he wanted to uphold his anniversary tradition of giving her a new ring every year but when she balked at the cost, he said he'd spend $40.
"Thank you for loving me and giving me a chance," he told her.
She replied, "Thank you for hearing me."
And although the six-episode show is history, that's not completely all -- Lifetime ran a preview clip plugging a True Tori reunion show next week in which all the viewers' questions would be answered, including whether McDermott's affair was faked!
Meanwhile, Spelling's friends "just want her to focus on what is best for the kids, and not her career. She is already filming her new ABC Familyshow with Jennie Garth, there is no need to continue doing any more reality television," the source added.
"If Tori does want to do it, fine, but leave the kids out of it."