'True Tori' Finale: A Reformed Love Rat? Dean McDermott Leaves For Canada Job While Tori Spelling Admits, 'I Might Not Get The Happy Ending'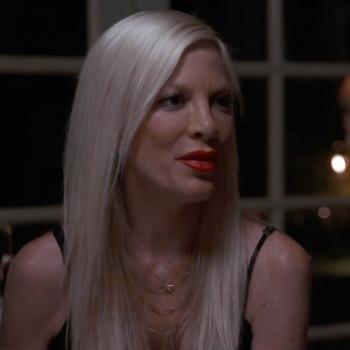 Tori Spelling didn't want Dean McDermott to return to the scene of his cheating crime in Toronto by taking the job to shoot the second season of Chopped Canada.
But on Tuesday night's final episode of her Lifetime reality show, True Tori, the former Beverly Hills 90210 star saw him off at the airport with no optimism that their marriage would survive.
Before Spelling, 41, and their four kids said goodbye to McDermott, 47, he told the cameras he could be trusted:"I'm a different person."
Article continues below advertisement
At the airport, Spelling told him, "Be good."
McDermott said, "I'm going to be Mother Teresa, so good."
After exchanging "I love yous," and hugs, however, Spelling still sounded as if she had doubts, telling the cameras, "Life's not a fairy tale. Life's not a movie. And I might not get the happy ending."
Throughout True Tori, viewers saw the aftermath of McDermott's two-day affair with Emily Goodhand while shooting the first season of Chopped Canada in Toronto and how he and Spelling tried to put their marriage back together.
Tuesday's final episode began by showing them out on a date right before their May 7 eighth wedding anniversary.
On the drive to the restaurant, Spelling told her cheating hubby that she might need access to his phone and computer!
But McDermott said, "I got nothing to hide, baby. I don't ever want to hurt you or betray you again."
McDermott said he wanted to uphold his anniversary tradition of giving her a new ring every year but when she balked at the cost, he said he'd spend $40.
Article continues below advertisement
"Thank you for loving me and giving me a chance," he told her.
She replied, "Thank you for hearing me."
Later, Spelling was shown having lunch with her friends — one of whom suggested that McDermott should sign a document that he would get nothing if he drank or cheated on her again!
Spelling complained to them about the tattoo McDermott had near his private parts.
"It's above the pubis. It says 'Tori's' — and then months later he cheats," she sighed to her pals.
The next day, at a couples' therapy session with Dr. Ann Wexler, Spelling told her she saw a future for them, but confided of McDermott's upcoming Canada work trip, "I feel like if he goes, I don't think we have a chance" because their "baby steps" of progress would evaporate.
McDermott said, "It's up to me to prove I can hold up my end of the bargain, that I can be the husband she deserves."
Spelling told Dr. Wexler, "I need him here!"
Article continues below advertisement
Getting teary, she added, "We finally found each other again! ... I want us to be together. This isn't fair on any level. This isn't right.
"I want you to stay because you want to stay," Spelling told McDermott.
McDermott explained giving in to Tori would destroy his work future.
Later, McDermott texted his manager about dropping out of Chopped Canada but found out he'd face a $5 million lawsuit if he did so.
Still, Spelling wanted him to at least offer not to go.
"I need him to make that gesture," she told the cameras.
The next day, McDermott did — telling Spelling, "I can't go. I don't want to leave you and the family right now."
But Spelling told the cameras that she finally decided she needed to support her husband and told him, "You have to go. We can't let one huge mistake define us. This is your career, babe."
Spelling said, "If you can promise me you'll come home as much as possible ... We'll try to get through this."
Then he got the grand sendoff at the airport!
But although the six-episode show is history, that's not completely all, folks! Lifetime ran a preview clip plugging a True Tori reunion show next week in which all the viewers' questions would be answered—including whether McDermott's affair was faked!