Tori Spelling Can't Get Enough! Embattled Reality Star Plans Family Reunion Party, Shamelessly Wants Sponsors To Foot The Bill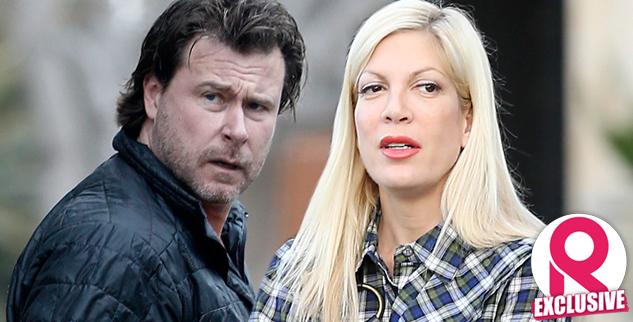 Never one to stay out of the limelight, Tori Spelling, having recently wrapped filming on her Lifetime docu-series, True Tori, is planning a family reunion party after seemingly taking back cheating husband, Dean McDermott, and the reality starlet is seeking sponsors for the big bash, RadarOnline.com is exclusively reporting.
Spelling hopes "to throw a bash, preferably at the beach, and is hoping her celebrity pals will attend," a source told RadarOnline.com.
Article continues below advertisement
The mother of four has already come under harsh criticism from close friends for forcing their kids to appear on the train wreck-worthy reality show.
"The friends were absolutely mortified and disgusted at the lengths Tori will go to for her career and reality show," said one source.
"Anyone watching the show could clearly see Liam is in distress and having a very hard time dealing with all of the stress in the house. The last thing Liam needs is for a camera to be following him around. It's just creepy,."
Article continues below advertisement
"It's no secret that Tori throws her kids over-the-top birthday parties. She would invite celebrity friends, like Lisa Rinna, Brooke Burke-Charvet, Ali Landry — even RuPaul — except she wouldn't tell them and other guests that they were filming," one guest revealed.
"When they arrived, before entering their home, they would all be asked to sign release forms for the reality show. Few were given a heads up before the event and they would be blindsided upon arrival."
Article continues below advertisement
Added the partygoer, "Tori's celebrity friends thought they were just going to a child's party and didn't expect to be on camera. It just didn't feel like a toddler's birthday party when there were so many cameras present. Naturally, guests couldn't relax and be themselves."
Spelling's friends "just want her to focus on what is best for the kids, and not her career. She is already filming her new ABC Family show with Jennie Garth, there is no need to continue doing any more reality television," the source added.
"If Tori does want to do it, fine, but leave the kids out of it."
Throwing a party is "the last thing Tori should be focused on...all she wants to do is to prove to the world that her marriage and family are in tact, and that she is amazing wonder-mom. This should be a quiet time for her family, out of the spotlight. Your husband cheated on you, and you want to party? Come on. It makes no sense," the source revealed.
So far, no sponsors have been willing to foot the bill for the party.