How Low Can You Go? 'Broke' Tori Spelling RIPPED By Ex-Pal Jason Priestley For Selling His Wedding Invitation For $5 At Yard Sale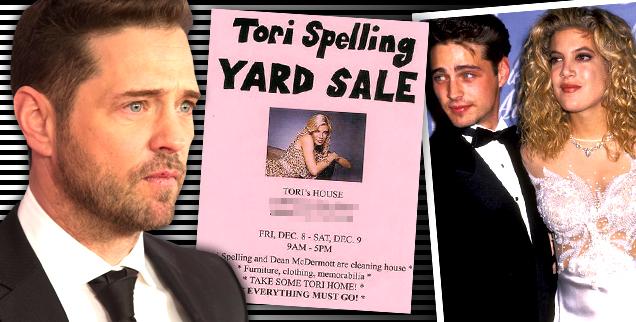 Article continues below advertisement
"I happened to be at home watching the local news one night, something I rarely got to do. Tori Spelling's yard sale made the broadcast that night," Priestley told Us Weekly magazine.
"I saw my very own wedding invitation on the screen."
Priestley, who played Brandon Walsh on the hit show, was shocked that Spelling, 40, hocked his memorabilia.
"Apparently, it had gone for five bucks, including a personal autograph by Tori. She sold my wedding invitation to a stranger."
The yard sale, which took place in 2006, was just one month after Priestley first met Dean McDermott, Spelling's now husband who has admitted to cheating on his wife and the mother of his four children.
They crossed paths at a DVD release party for 90210, and Priestley said McDermott was a complete jerk.
"I walked over, extended my hand and said 'Hi Dean, Jason Priestley … He stared down at my hand, then back up at my face. No handshake…nothing… 'Well. Mutual friend Tom Cavanaugh speaks highly of you,' I said."
Priestley says McDermott only had two words for him: "'Oh yeah?' Dean said aggressively.
"'Yeah, for some reason he seems to think you're a nice guy.' I turned and left. Haven't spoken to him since."