Exclusive
Single White Doherty! Jennifer Aniston Privately Slams 90210 Star Shannen Doherty For 'Stalking' Her Style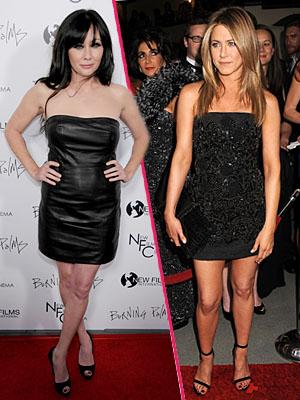 Jennifer Aniston is fuming to friends that she has a "celebrity stalker" after Shannen Doherty hired her glam squad, RadarOnline.com has been told.
The former Beverly Hills 90210 hellraiser recently hired Aniston's close inner circle beauty team--including makeup artist Angelina Levin and hair stylist Chris McMillan -- "to give her a Jen-style makeover," a source revealed.
Said our spy: "Jen was not amused to hear the news and gave her team members a piece of her mind -- she thinks working for a 'D-lister' like Doherty is beneath her style squad members because they usually work only with A-list names."
Article continues below advertisement
But Doherty, 42, known for her party girl past and hard-to-work-with reputation, desperately wants a makeover to look as hip as her favorite Friends actress Aniston, 45, the source added.
"Shannen has shown a level of delusion over Jen, who is not a fan of Shannen's at all. But Shannen shocked Jen's style team by gushing about how much of a 'kinship' she feels with the entire Friends cast--because she was once part of a hit TV ensemble as well," the source said.