Exclusive
Pretty Woman, Copycat? Julia Roberts Seeks To Steal Jennifer Aniston's Style Secrets!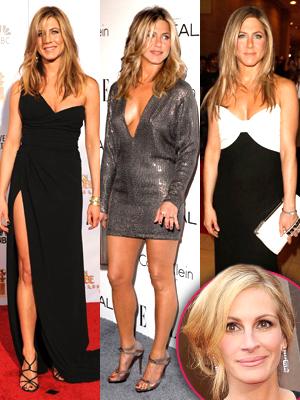 Julia Roberts badly wants a makeover — and Hollywood's former Pretty Woman has decided to steal rival Jennifer Aniston's style secrets, RadarOnline.com can reveal!
"Julia has developed a bit of an obsession with Jennifer, especially in the looks department," a source revealed.
"They are close in age and now Julia wants a makeover along the lines of what Jen has had in the last year and to get same raves on the red carpet as her fellow A-list star."
Article continues below advertisement
To make her dream a reality, Roberts, 46, has systematically reached out to a number of members of "Team Aniston," including 45-year-old Aniston's stylist, makeup artist and even her close pal, hairstylist Chris McMillan, for advice on how to revamp her image, the source added.
But Roberts' plan has many seeing red!
According to the source, "It's not a cool move to try to raid Jen's 'style cabinet' for all their secrets for how they keep Jen looking so cool and current."
McMillan chopped several inches off Aniston's hair last year and as RadarOnline.com has reported, the star also got an upper ear piercing and consulted edgy style guru Kate Young.
What makes Roberts' plan to follow Aniston's lead particularly awkward is that the Erin Brockovich star, "really made a point of siding with Brad Pitt when he and Jen split up because she was friends with him from starring together in The Mexican, Ocean's Eleven and Ocean's Twelve. Julia even made her next big upcoming movie, the drama The Normal Heart, with Brad as her producer."
Article continues below advertisement
The source noted that Roberts' brief guest stint on Friends years ago was just about the most quality time she's ever spent with Aniston!
Roberts carefully avoided Aniston during her subsequent romance with Jen's close pal and Friends co-star Matthew Perry, the source said.
Although Roberts was seen hugging Aniston at The Mexican premiere in 2001, when she was married to Pitt, "Julia always saw Jen as a rival, plain and simple" the source close to the situation explained.
Now, Roberts covets the effortless glamor of perpetually single and childless Aniston, who has managed to look young and fresh into her 40s.
The Oscar-winning actress, who has three kids with husband Danny Moder, "also wants to look her absolute best but feels that it's been really difficult because of her filming schedule and kids.
"It remains to be seen whether Jen's glam squad will help Julia out in a major way, as they are fiercely loyal to her," the source told RadarOnline.com.