Exclusive
Bad Ass Aniston! Jennifer Plots Edgy Makeover With Style Guru Kate Young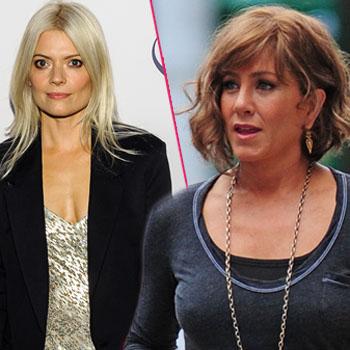 Jennifer Aniston's new look is no accident — a source reveals to RadarOnline.com her shorter hair and piercings are part of a determined plan to give herself an edgy makeover and once again become a fashion icon.
In fact, Aniston's new style guru Kate Young is behind the change and fans can look forward to much more to come!
"Jen's new look is far from the nonchalant boredom-driven choice that she's playing it off to be," an insider dished. "This change is entirely the creation of Kate, who is so influential in the New York fashion magazine scene. Kate will make sure magazines are using models with Jen's new hairstyle and overall look by February."
Article continues below advertisement
Aniston recently debuted a short A-line bob hairdo: As RadarOnline.com has reported, Aniston said the cut was a necessity after her hair was damaged by a Brazilian Blowout.
She also shrugged, "I was ready for a change."
In addition, the former Friends star said she spontaneously decided to get an upper ear cartilage piercing.
But the source told RadarOnline.com it's all part of a master plan, in part sparked by her fiance Justin Theroux's bad ass style.
"Kate and Jen planned to match her style with Justin's a little bit more. But also, they really want to see how far they can push the rest of America. Kate has reignited Jen's interest in being America's primary hairstyle and fashion trendsetter."
That means everything must go! Incredibly, the source reveals that Jen will be throwing out some of her $5,000 cocktail dresses that have won her red carpet raves.
"Jen cuts up some of her expensive clothes and puts them in the recycling bin because she doesn't want them to end up on EBay," the source added. "Her wardrobe now has a lot more jeans and boots as she's making room for Kate's new styles."