Exclusive
Jennifer Aniston's 'Chewed-Off' Bob Cut A Publicity Stunt To Promote Hair Care Line, Speculates Salon Manager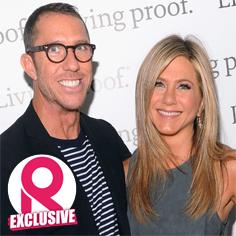 Stylists are calling foul play on Jennifer Aniston, who claims her new "chewed-up bob" – as her longtime hairstylist is calling it – is the result of a bad chemical straightening experience and a ploy to promote her hair care product line, RadarOnline.com is exclusively reporting.
The sexy star, 44, told Elle UK she cut her hair very short after her hair didn't react well to a straightening treatment, but speculation among stylists and die-hard blowout devotees is that the haircut is a publicity stunt to promote her co-owned hair care product line.
Article continues below advertisement
"I bet she's coming out with her own smoothing product, and she'll let us know her product is the best," a beauty insider who hasn't worked specifically with Aniston, told Radar.
"She'll step out with gorgeous hair in a couple months and claim her product saved her hair."
Aniston is a co-owner and spokesperson for science-based hair care line Living Proof.
Meanwhile, Aniston's long-time hairstylist and friend, Chris McMillan, revealed the actress was looking for a change.
"It was a spontaneous decision, even though she had kind of been thinking about it for a while," McMillan told Allure.
"It took a few hours to get it right. But I wanted it to look chewed off and lived in."
While the cut might take some time for her to get used to, McMillan says the 'do reflects her laid-back personality.
"The idea was that Jen won't have to blow it out and style it," he said.
"The point is to let her natural waves come in and maybe tuck it back on one side… A short cut takes some getting used to. But she's really happy with this cut. So am I. It suits her."