Exclusive
Gone With The Marriage? Tori Spelling's Once-Exclusive Boutique Up For Lease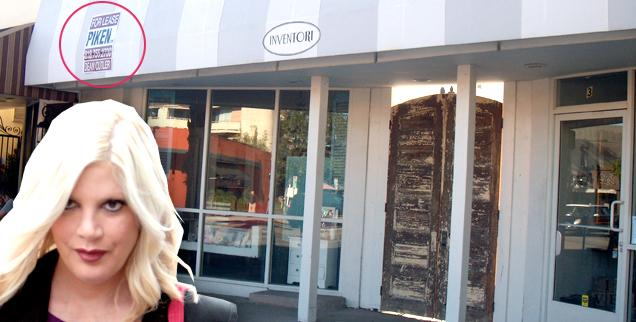 2013 has been a pretty miserable year for Tori Spelling's personal life and RadarOnline.com has exclusively learned that it isn't ending on a high note for her businesses either.
The reality TV star's husband, Dean McDermott, was reportedly caught cheating on her just days before Christmas, and now her store is up for lease.
Spelling's home furnishings store, InvenTORI, on Ventura Blvd. in Sherman Oaks, Calif. has a "for lease" sign outside and RadarOnline.com spoke with the real estate agent who confirmed the space is available.
Article continues below advertisement
"There are people interested in the property and they have options in their lease that they are discussing now," Dean Cutler told RadarOnline.com about the store that sells Spelling's books, pet items and even jewelry.
"They InvenTORI owners have been good tenants and they're in good standings, but the unit is for lease," Cutler confirmed to RadarOnline.com.
In her book Spelling It Like It Is, Tori griped that her customers were more interested in the lower priced candles instead of the big ticket items.
"They haven't said that they are going out of business," Cutler admitted about the property, which Spelling opened in February 2011.
"They're talking with the building owners and working out a situation that will be beneficial to both of them."
RadarOnline.com reached out to Tori's rep for comment but she has not responded.