Addicted To The Small Screen — Tori Spelling Wants To Do Another Reality TV Show!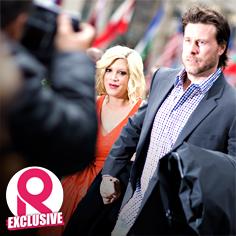 With filming just completed on Tori Spelling's train wreck reality TV show True Tori, which documented her attempt to save her marriage to cheating husband, Dean McDermott, is hoping to do another docu-series as the family moves forward from a very rocky period, RadarOnline.com is exclusively reporting.
Even though ratings for True Tori were less than stellar, "Tori is hoping either Lifetime or Oxgyen will want to do another reality show as her family begins to live their lives after Dean's three month stint in rehab. Dean has been filming Chopped Canada in Toronto, but has been commuting back and forth," a source told RadarOnline.com.
Article continues below advertisement
"It doesn't faze Tori that she is currently shooting her ABC Family TV show with Jennie Garth....Tori would do a 24/7 reality show of her life if she could. She is truly addicted to it."
As RadarOnline.com previously reported, Tuesday night's finale of Spelling's show concluded with oldest son Liam, 7, refusing to take family pictures with cheating dad.
"The last thing Tori's kids needs are more cameras in their lives. Liam is clearly struggling as he has been acting out on the show," the source added.
"Thankfully, Hattie and Finn are young enough to not realize what is going on around them. Tori needs to take a year off from filming a reality show, or writing a book spilling all of the most intimate details of her life."
The mother of four's oldest son was pressured by the 90210 star to be a part of the photo, and behind the scenes Spelling boasted to close friends she had to bribe the little boy with toys and candy to be a part of the show, which disgusted her inner circle.
"It's bad enough Tori decided to do the reality show as she was trying to repair the marriage, but to include the kids was not wise. In recent days, Tori told her close friends Liam was having major issues with appearing on camera, and that she had to bribe him with toys and candy," the insider previously told us.
And although the six-episode show is history, that's not completely all — Lifetime ran a preview clip plugging a True Tori reunion show next week in which all the viewers' questions would be answered, including whether McDermott's affair was faked!