Exclusive
Camera Shy? Candy Spelling 'Doesn't Want Her Issues With Tori To Play Out' On TV — Inside Their 'Complicated' Relationship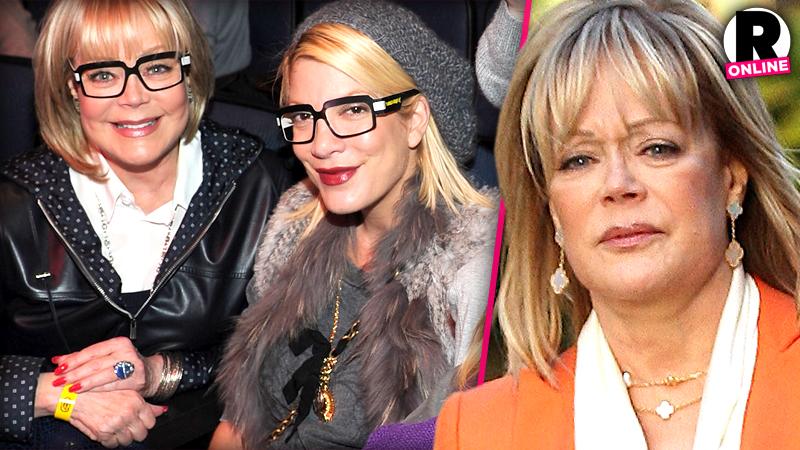 Tori Spelling's complicated relationship with her mother, Candy, is once again in the headlines after the mother of four revealed during an interview on the TODAY show, that Aaron Spelling's widow didn't visit her during a recent hospitalization. But sources close to the situation tell RadarOnline.com that their "complicated" relationship is actually on an upswing!
"Candy has nothing but love for her daughter, and grandchildren," an insider explained.
Article continues below advertisement
"Is Tori and Candy's relationship complicated? Yes, it always has been," the source continued. "It has its good times, and bad. Even though Candy supports Tori's career, and will appear on an upcoming episode of True Tori, she doesn't want her issues with her daughter to play out in front of the cameras."
Spelling revealed during the interview with Hoda Kotb and Kathie Lee during the fourth hour of TODAY that her mom hadn't visited her in the hospital recently.
"We've talked to your mom on the show a number of times, and we talked about your relationship with her and healing it," noted Kotb. "In the hospital, did something happen that either solidified that or made it clear that there are boundaries?"
"Um…it's not something I'm willing to get in to out of respect, but nothing happened in the hospital," said an emotional Spelling.
"So, you didn't hear from her or anything?" pressed Hoda.
Article continues below advertisement
"No," Tori said.
While her mom wasn't there for her​, 48-year-old McDermott was.
"He was by my side daily. He proved it. He was home taking care of four kids. He really stepped up," said Spelling. "And that was the big thing on the show this season. I was like, 'Step up! Take care of the kids! You've been away. You've been dealing with yourself for so long. Come back to us.' And he has – in a big way."
The insider added, "Candy is handling the latest round of headlines with class and grace. It's just sad that this all has to be played out in front of the cameras."