Tori Confesses Secret Reason For Hospitalization — And Who Refused To Visit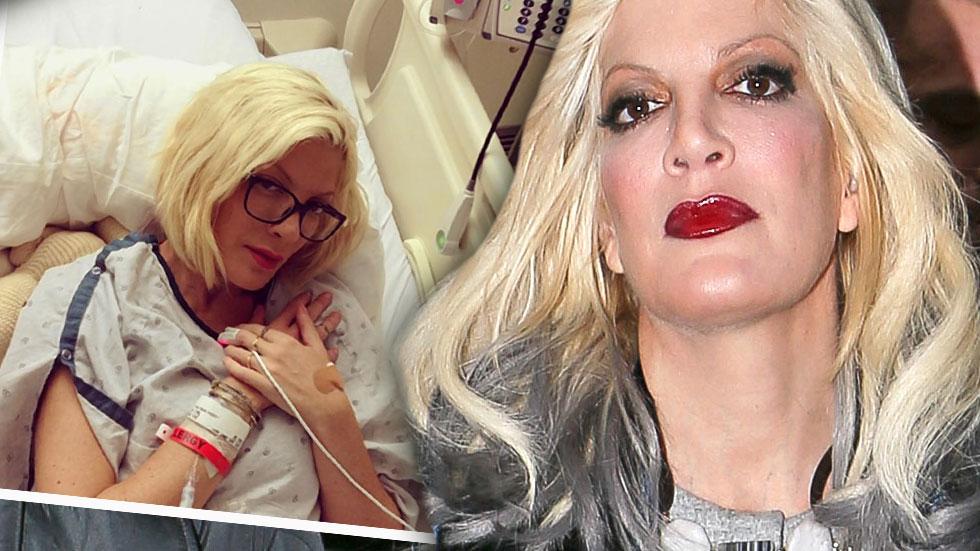 While Tori Spelling has openly talked about admitting herself to the hospital recently battling pneumonia, she now believes her illness was just a symptom of a bigger problem.
Appearing on the Nov. 17 episode of Today to promote True Tori, the reality star laid bare her inner turmoil to Kathie Lee Gifford and Hoda Kotb. She started off by explaining that she began to get sick after her children contracted pneumonia. Unfortunately, "it just hit me the hardest," she said.
Article continues below advertisement
The reason? "There are emotional components, always," explained Spelling. "I'm just learning that. At 41, I'm realizing that...you can repress emotions for as long as you want, but they come out in certain ways."
And the issues aren't just with her cheating husband, Dean McDermott, Spelling revealed when the subject of her mom, Candy Spelling, came up. "We've talked to your mom on the show a number of times, and we talked about your relationship with her and healing it," noted Kotb. "In the hospital, did something happen that either solidified that or made it clear that there are boundaries?"
"Um...it's not something I'm willing to get in to out of respect, but nothing happened in the hospital," said an emotional Spelling.
"So, you didn't hear from her or anything?" pressed Hoda.
"No," Tori said.
While her mom wasn't there for her, 48-year-old McDermott was. "He was by my side daily. He proved it. He was home taking care of four kids. He really stepped up," said Spelling. "And that was the big thing on the show this season. I was like, 'Step up! Take care of the kids! You've been away. You've been dealing with yourself for so long. Come back to us.' And he has – in a big way."
"The children are great and flourishing, and that's what's important," Tori added. "Our everything are the kids and that's what comes first, and when it's not about that anymore, then this all goes away."​