'Everything's Always Been Great' With Me & My Daughter Tori, Candy Spelling Says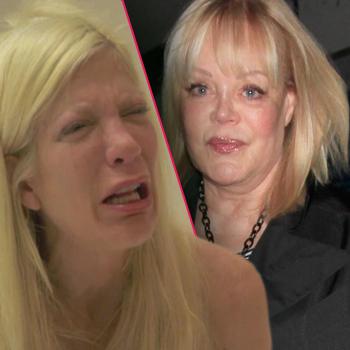 Much ado about nothing, says Candy Spelling, about the decade-long reports of tension between herself and 41-year-old daughter Tori Spelling.
The show biz mom, coming off a revealing interview with Oprah Winfrey, opened up about the misconceptions swirling between herself and the reality star as her personal driver unloaded her shopping cart in a Los Angeles shopping center.
"Everything's been better with you and …?" the cameraman asked, with Candy cutting him off mid-sentence to declare, "Everything's always been good."
Article continues below advertisement
When the cameraman asked Candy, 68, to reiterate her opinion that it's actually the media who's turned molehills into mountains regarding the tension, Candy said, without hesitation, "Yeah I do, thank you."
Watch the video on RadarOnline.com
In the Oprah: Where Are They Now? special, Spelling said of her rift with her daughter: "I call it the 'infamous feud between Tori and Mom' — a lot of that was blown out of proportion."
She also intimated that she got a raw deal in the back-and-forth, saying that, "A lot of it was, 'Oh, poor Tori': It was played that way, I have to say, in an unfair way. No one really looked at the facts."
Oprah: Where Are They Now? on OWN Sundays at 9/8c.