Tori's A Liar! Spelling's Mom Candy Blasts Her Claims Of Financial Problems, Declares They Are 'Not True ... She's Very Successful' PLUS Dean's 'Devastating' Cheating Confession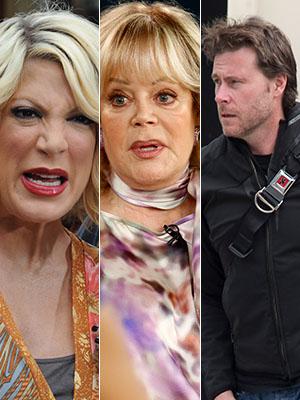 Mother knows best, especially when you're lying!
Tori Spelling's mom, Candy, stopped by The Talk on Monday to talk about their rocky relationship, revealing her daughter's poor little rich girl sob story is a complete lie!
When asked if Tori and her family were in financial ruin, Candy shook her head: "No. It's not true."
"She is very successful," Candy added, naming several of Tori's numerous best-selling books, reality shows and clothing brands.
Article continues below advertisement
Aaron Spelling's daughter, who lived with her parents in a 100-room mega-mansion in Holmby Hills, has long insisted that growing up in the lap of luxury stunted her ability to live a normal life, but Candy refuted the claims, saying she has always been there for her daughter.
"I'd never leave my kids in distress. I'm always there to support her. I even bought them a house in Malibu," Candy stated.
Candy went on to tackle the tougher questions, admitting it has been difficult to watch her daughter's new docu-series True-Tori, which chronicles her crumbling marriage to Dean McDermott.
"It is devastating. I haven't been able to watch much of it. It is hard to watch," she said, adding that despite their past problems, they "text each other every day."
"I want to check in and see how she is… Tori and I both made a big decision to not go over the whys and how and to be there for each other," she revealed.
Candy was even by her daughter's bedside when she was rushed to a local Los Angeles hospital in mid-April, suffering from severe migraines and an ulcer brought on by the extreme stress of McDermott's infidelity.
"She tends to get migraine headaches, as I have and she was hospitalized. It was horrible to see your daughter with tubes coming out of her arms. I was feeding her pudding. Heartbreaking!" Candy recalled.
But, her support only goes so far.
When asked if she'd allow Tori and her children to move in – if the marriage ends in divorce – Candy quickly snapped: "No."
Backtracking, she insisted: "I might buy her an apartment. I don't have room for four kids and a daughter. "