Mommy Dearest: Candy Spelling Admits 'I Wasn't Affectionate Enough' With Daughter Tori &'I Do Worry About Her' Health After Scary Hospitalizations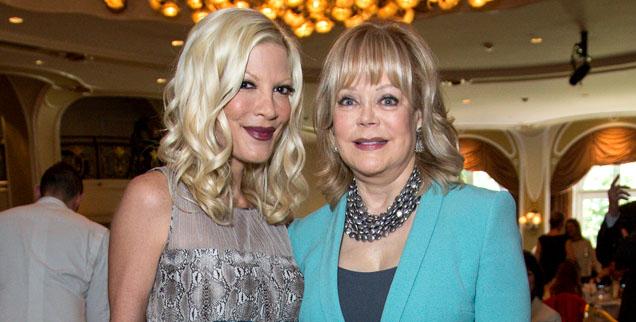 Drama is the Spelling family business. And while matriarch Candy certainly stirs the pot in her latest memoir, slamming her daughter Tori, she also shows a softer side, admitting how she might be partly to blame for her daughter's troubles.
"I always wanted children," she insists in the book, Candy at Last. "…I really wanted to be a mother."
After fertility struggles had her and husband Aaron considering adoption, she reveals, daughter Tori's birth was a happy blessing. "I promised myself that I would be the perfect mother," she writes. "I think especially because I had such an unhappy childhood, I wanted my children to have perfect childhoods."
Article continues below advertisement
But poor little rich girl Tori has long insisted that was not her reality, and that growing up in the lap of luxury stunted her ability to live a normal life. "When you grow up with a silver spoon in your mouth, it's hard to go plastic," she's said. And her brother, Randy, recently told Radar that it left him feeling "empty" and "numb inside," leading him to turn to drugs for temporary solace.
Candy admits, "I see now that in my quest to be the perfect mother and create the picture-perfect life for my children, I was too focused on the bigger picture and not enough on the smaller brush strokes. … I feel badly that my children felt I wasn't affectionate enough. I thought I was."
"I see now that it would have been beneficial for the children to have had responsibilities around the house," she continues. "… We really should have taught the kids to do more for themselves."
Now, as "broke" Tori struggles to hold her family together amid financial troubles and her husband, Dean McDermott's cheating, Candy reveals, "I do worry about her …"
Even with several nannies, "She definitely has her hands full," as her recent hospitalization for a serious migraine proves all too well.
"Migraines run in our family, so we are prone to them," Candy reveals. "Although they are genetic, they can also be triggered by routine stress."
Do you think Candy's book could cause another migraine for Tori? Let us know in the comments!