Exclusive
From Silver Spoon To Coke Spoon: Tori Spelling's Brother Randy Reveals How Their Lavish Childhood Left Him Feeling 'Empty' & 'Numb Inside' -- And Nearly Dead '20 Times' From Drug Overdoses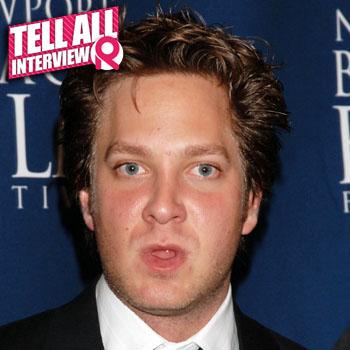 Randy Spelling and his sister Tori grew up in the lap of luxury as the son of TV producer Aaron Spelling and his socialite wife Candy. But although being Hollywood royalty undoubtedly had its perks, for both Spelling kids, living in the limelight also came with a price. While Tori's spending spiraled out of control, Randy fell victim to a dark addiction that nearly killed him. Now, eight years later, he's finally found peace and his true calling as a life coach, husband and father. And as he prepares to release his first memoir about that journey, he opened up exclusively to RadarOnline.com.
Article continues below advertisement
Radar: You've written a self-help memoir about growing up in Hollywood, and how you abandoned that lifestyle to become a life coach. Tell us about the book and that journey?
Randy Spelling: The book is told from my perspective. It is in a sense about life coaching and I do discuss parts of my life.
The reason why this book as sort of a hybrid of a memoir and a self-help book is because I am a certified professional life coach and I have done this for years. I use my story, some of my clients' stories and some of my friends' stories to illustrate the points that I'm making so it's more of an entertaining way of digesting what I'm trying to get across.
For instance, I come from one of the wealthiest families in America, grew up in a house larger than the White House and there were times when I felt just as empty and had as little, even though I might have grown up with abundance and money, monetarily I didn't have struggles. But still, I was conflicted because it was part of human nature.
Radar: You've always been very private about our personal life and never really spoken about your struggles with drug addiction until now. How much do you open up in your book?
Article continues below advertisement
RS: I don't struggle with addiction now. It's been years and years, but until 27, that was my life – numbing myself to not want to feel my feelings and deal with any parts of myself that might be painful, challenging or uncomfortable. I found it easier to cover that up and not deal with it, and the more that I did that the more overwhelming life became.
It's a common theme that I hear from people… I also don't want to paint the picture that the book is all about addiction. I would say that's maybe 20 percent of it.
Radar: What addictions did you struggle with?
RS: I was struggling with alcohol, cocaine and really sometimes anything that would make me feel different.I'm really specific about my own struggles. And I do it in a way that really takes a good look at how I can change what was going on with me, and what I was feeling.
I would go to therapy in my early 20s and therapy is great, but after a while I kept telling the same stories over and over again. It's like those stories became crystallized and I knew why certain things were happening, but that doesn't mean that I could shift that or change that. So what changed for me was looking within so I could empower myself to make the changes that I wanted to make.
Article continues below advertisement
Radar: Tori has said "when you grow up with a silver spoon in your mouth, it's hard to go plastic," which she has blamed, in part, for her money woes. Have you had similar issues?
RS: I've had an interesting relationship with my upbringing and obviously how I live now is completely different than how I grew up. It feels like a different lifetime and yet I can see the similarities and I can appreciate how I grew up.
It was a big learning curve for me to live in a way that I couldn't just have what I wanted when I wanted it. I had to come down to earth and realize that I have to work for it. I talk about this in the book and I share some stories about being a father, that I've been really stressed about money and thinking about the girls going to school and I use that as a story because a lot of people have the same concerns and how do you deal with that.
Article continues below advertisement
Radar: You're 35 now. Why was this the right time to write a book?
RS: As cheesy as this may sound, I felt called. Someone actually suggested to me three years ago, 'you know, you're going to be writing a book' and I said, 'please, no way. I'm about to become a father, I have a lot of responsibility, I'm working with clients and building my practice. There's no way that I can sit down and write a book.' And right before my second daughter was born there was something different. I just felt compelled to do it. I think, for me, I needed to do it for myself. I needed to see my journey on paper, see how far I've come and what I actually have to share, and the parts that I still need to grow.
Radar: Your sister decided to go into the family business, so to speak. Why did you decide not to do that?
RS: Tori from an early age always wanted to be an actress. I think I went into it because that was just the world around me. And at the time that was just a shiny pearl. My destiny was different.
I was in that world, I made a living and I did well, but I never felt completely and utterly passionate about it. Like no matter what, this is what I want to be. I think that was part of my struggle -- finding my place and finding my voice in a family where everyone looked at me thinking that I was going to be an actor or a producer. How can I be anything different because now I was born the son of this legendary producer who was the biggest mogul in TV?
Article continues below advertisement
I acted for a while and I was actually tired of doing that. I went into music for a few years, owned my own company and after a while I felt that wasn't the right fit. For my last stint I did a reality show that was filmed right around the time of my dad's death. To a degree I was talked into it by the people around me. And I'm not a victim; I made the choice to do it. But I was told it was a good career move and I was so uncomfortable. I felt like my life and what I did on a daily basis wasn't entertaining.
It was like most reality TV shows -- hyped up and chaotic -- and it did a number on me. Between shooting that show, living my dad's death and all the drama around that on camera, I said to myself something has to change because I'm either going to die, I'm going to overdose, something's going to happen, I knew it. I'm on the road to killing myself right now. I was close to death 20 times. It was to a point where I was like, this can't be all that life is about.
Article continues below advertisement
Radar: Tori also made the choice to document her life and family with husband Dean McDermott on television. Do you watch the show? And does it remind you of the hyped-up reality chaos that you were involved in so many years ago?
RS: I can't really comment on that. All I can say is I don't watch much reality television. But I love So You Think You Can Dance! My kids got into it and I love it! I don't know if it's dancing with the music or watching the dancers' journey… I love it.
Radar: Could reality TV ever be in your future again?
RS: I do get approached sometimes to be on TV, but the only way would be with what I do now -- as a life coach and an expert helping people. I feel like that's my drive, that's my motivation. What I love to do is help people on that level.
Radar: Today you live far away from Hollywood in Portland, Oregon with your wife Leah and daughters Sage, 3, and Lotus, 1. Why did you decide to relocate?
Article continues below advertisement
RS: I didn't walk away from Hollywood. I just got in touch with myself, what I wanted to do and who I wanted to be in the world. I needed to find that elsewhere because I knew that I didn't want to raise kids there. If I chose to go back at some point, it's a choice. But I needed to experience something different and I felt called to come to Portland. I love it here, I built my business here and I have a family. It just feels right.
Radar: After coming full circle yourself, what's your advice for other young stars?
RS: It's a weird world that someone wants to do this as a craft. They want to act, they love it, it's in their bones, whether it's on stage or to their friends they're going to act no matter what. And then are those for whatever reason they do want to be famous. And I think it's a dangerous game because they're looking for validation outside of themselves and at some point that's going to turn around and bite them in the butt because they'll feel good, but it's fleeting. When they're not the hot thing or in the media, it feels like they're not getting the attention that they wanted. That can almost be harder to deal with then how they felt before they became famous.
Radar: The book is a personal journey for you. Have you spoken with your family about your plan to publish the book?
RS: No comment (laughs). I mentioned that I was writing a book. There hasn't been any more than that. I've been quiet about this because it's still in the infantile stages. I finished the book, so that's a big accomplishment, but I haven't been talking about it that much.
I'm not airing dirty laundry, this isn't a celebrity tell-all, dishing about growing up as the brother of Tori or the son of Aaron. My intention was to share parts of my life because there does seem to be the fascination with Hollywood and what my sister does. And I wanted to share my story just enough that I can also approach some of these other spiritual concepts that we all hear, but do it in such a grounded way with usable exercises and things from my practice people can do to change their lives.