Exclusive
Not-So-True Tori? Insider Reveals How Spelling's Show Twists Reality To Make Dean McDermott 'Look Like The Bad Guy'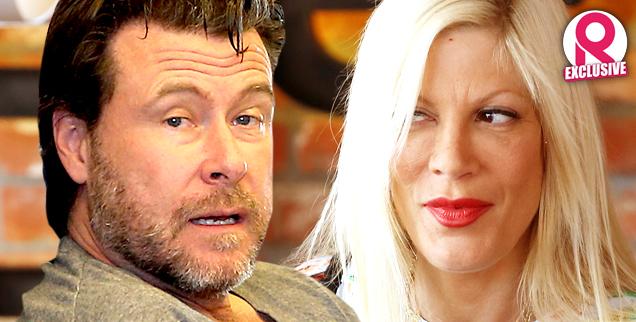 Article continues below advertisement
In one recent instance of what the source calls creative editing, viewers witnessed the 90210 actress flipping out when her cheater husband revealed he would be returning to Toronto, Canada, where he had a tryst with another woman, to film Chopped: Canada for two months.
But in reality, "Dean will only be away from Tori and the family for only seven days at a time, and not two months straight," an insider told RadarOnline.com. "The Chopped: Canada production team is working with Dean to get as many shows possible filmed and in the can so he can return to Tori and the kids."
"The notion that Dean is going to be gone for two months is ridiculous," the source said. "Dean was trying to find a compromise with Tori from the beginning, and he was furious that it was made to look like he would really consider going away for two months at this difficult time. Plus, the Chopped producers have bent over backwards to get him home as quickly as possible."
When the episode in question aired, viewers saw McDermott, 47, get the news that Chopped was renewed, and that it would entail him shooting in Toronto for two months.
Article continues below advertisement
In addition to being anxious about him being away that long, Spelling was also concerned that McDermott would have to start work on May 8 or 9, exactly when she was scheduled to start filming Mystery Girls, the ABC Family show that would reunite her with Beverly Hills 90210 co-star Jennie Garth.
Spelling complained to the cameras that his absence would leave her taking care of their four kids alone yet again, and while working full-time.
But that was "yet another lie," according to the source.
"Tori wouldn't be taking care of the kids all by herself," the source claimed. "It's just another ploy to make Dean look like the bad guy. They have at least two nannies at all times, that are never shown on camera because Tori won't allow it. In fact, to save money recently, Tori has even used the crew of the reality show as babysitters!"
As RadarOnline.com has reported McDermott recently threatened to divorce Spelling, even though he was the one that cheated on her. And in the aftermath of a heated argument with Spelling on the show Tuesday night, Dean told a producer, "I don't think I want to be in this marriage anymore."
"Dean has finally had enough and he is tired of Tori playing the victim," a source previously told RadarOnline.com. "Yes, Dean cheated on her, but Tori definitely played a role in where their marriage was when that happened. For months, Tori has railed on Dean and he has taken it. However, Dean has had it. Now he is threatening her with divorce."
Meanwhile, there is "growing concern for Tori and Dean's four children, especially the eldest, Liam and Stella," the source said. "They just seem so lost in all of this. No one is paying attention to their needs, and having all of these random people in their house can't be good for them. Tori has truly taken this way too far!"