Exclusive
Tori Spelling Blindsided As Cheater Dean Threatens Divorce: 'He's Tired Of Tori Playing The Victim!'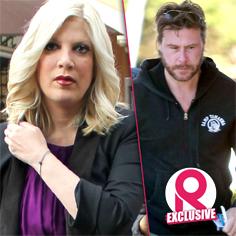 Tori Spelling's troubled marriage just took a twist she never saw coming.
After standing by her love rat husband Dean McDermott through a tawdry cheating scandal and subsequent rehab stay, RadarOnline.com has learned that Spelling has been hit with the ultimate heartbreak: He's threatening to divorce her!
"Dean has finally had enough and he is tired of Tori playing the victim," a source told RadarOnline.com.
"Yes, Dean cheated on her, but Tori definitely played a role in where their marriage was when that happened. For months, Tori has railed on Dean and he has taken it. However, Dean has had it. Now he is threatening her with divorce."
Article continues below advertisement
Mother-of-four Spelling's decision to do a reality show in the midst of their marriage crisis was the last straw for McDermott, according to the source.
"There was a time when Dean would have done whatever Tori wanted, but this has gone too far," the insider added.
"Publicly shaming Dean is one thing, but their four children are going to be able to watch the show when they are older and that really distresses him."
In a new teaser clip for the show 47-year-old McDermott seemed to excuse away his infidelity by claiming the couple's sex life was lacking.
The mind-blowing clip features a distraught Spelling, 40, and flabbergasted McDermott at a counseling session with their marriage therapist in which they explore why he cheated on her and if their marriage can be salvaged.
"We have four kids, so in the sex department there were ebbs and flows. Is that safe to say?" McDermott said, looking at his wife.
Article continues below advertisement
"We had a great relationship and we had a great sex life," Spelling battles back.
"We had sex once every two weeks," he says. "It wasn't fantastic."
After Spelling gasps in frustration, McDermott seems utterly lost asking, "What? What did I say?"
As RadarOnline.com exclusively reported last December, McDermott demanded sex 24/7 and Spelling admittedly could not keep up.
"I can never give him enough sex," she said through tears in another teaser. "He's never going to be happy with just me."
Spelling's journey on the six-episode series will document the rocky road she navigates with McDermott following a marriage crisis when he was accused of infidelity and then his subsequent treatment in a rehab center.
Despite McDermott's new divorce threats, the source added Spelling thinks it will blow over once the show premieres.
"Tori doesn't think that Dean will actually pull the plug on their marriage," the source explained.
"In her mind, she is the only one that can decide whether or not they will split up. She could be in for a VERY rude awakening."
True Tori premieres on Lifetime on April 22.