'True Tori': 'Controlling' Spelling & Cheating Husband Dean McDermott Argue About Him Returning To Toronto; He Fumes, 'I Don't Think I Want To Be In This Marriage Anymore!'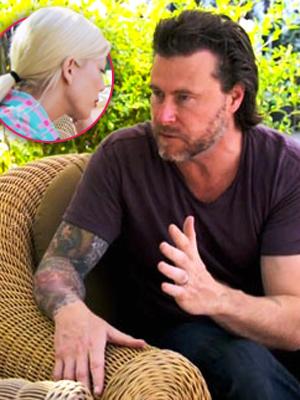 Dean McDermott cheated on Tori Spelling while shooting the show Chopped Canada in Toronto last year, and on Tuesday night's episode of True Tori, he and Spelling debated his return to the Canadian hotbed to film the show's second season.
The disturbing dilemma caused even greater strain between the two, who are documenting their crumbling marriage on the Lifetime reality show after McDermott strayed on the former Beverly Hills 90210 star with Emily Goodhand.
Article continues below advertisement
Viewers saw McDermott, 47, get the news that the show was renewed, which would entail him shooting in Rob Ford's home base for two months.
Knowing his return would push 40-year-old Spelling's buttons, McDermott phoned his friend Wolf and asked if he should take the job, as it would be like going "back to the scene of the crime."
His pal told Dean he had to man up and do the show without getting into any more trouble. McDermott later told his wife he was offered the show again, and Spelling moaned to the cameras that she wondered how Dean could even think of going when "we're working on our marriage."
The actress was also concerned that McDermott would have to start work on May 8 or 9, exactly when she was scheduled to start filming Mystery Girls, the ABC Family show that would reunite her with Beverly Hills 90210 co-star Jennie Garth.
His absence would leave her taking care of their four kids alone yet again, and while working full-time, to boot!
When the discussion didn't go well, McDermott stormed off.
Article continues below advertisement
And later, Spelling's anger boiled over after she learned their oldest child, 7-year-old son Liam, had stayed home from school while she was working, and Dean hadn't consulted her.
Instead, he'd taken Liam to get a haircut!
"I feel like I can't win," McDermott told her.
Spelling admitted to the cameras that she REALLY was mad about him wanting to go to Canada again!
"I think it's too soon for you to go away," she said.
He pointed out to Spelling, "If you didn't want me to go, you just say, 'No, I don't want you to go!' Tell me how you feel! You didn't tell me how you felt for eight years! That's not fair to me!"
Spelling countered, "I try to tell you how I feel and this is what happens. You scream, you're louder, you're bigger, and you still do what you want."
McDermott yelled about calling his agent to back out of Chopped Canada, and Spelling said, "Keep your voice down! The babies are sleeping! Talk to me like a human. Stop shouting at me!"
Article continues below advertisement
Spelling said she had to bark at him just as loud to be heard.
"What the f*ck do you want from me?" he fumed, and headed out the door.
Spelling asked producers to follow her husband (who spent time in rehab after having a nervous breakdown post-cheating scandal) to make sure he was okay.
McDermott told the producer, "She's so controlling … I can't give her what she wants."
As the producer tried to give him advice, Dean raged, out of camera range but still on audio, "I don't think I want to be in this marriage anymore."
Also on Tuesday's episode, viewers saw the couple finish their session with couples' therapist Dr. Ann Wexler from last week.
"I can't go there," McDermott said, his hands shaking, after his wife reminded him of his cheating.
Spelling didn't trust it was okay to continue, but McDermott came out of his seeming panic attack as she shook her head in dismay.
Dr. Wexler, who witnessed McDermott having his nervous breakdown in her office in December, said he should call his alcohol addiction sponsor.
Article continues below advertisement
"I want to live," he assured Spelling, and said he knew their kids were better off with him than without him.
Producers made sure he was okay while Spelling confided that she wanted to tell her story and perhaps wasn't thinking enough about McDermott's mental health.
"I want you to tell me your feelings," he said. "You have to keep telling me, baby."
He told the cameras, "I've got to face the consequences of what I've done. She has to lay it on me."
After their fight over Liam's haircut and McDermott's proposed return to Toronto, the couple met with Dr. Wexler again.
Spelling explained she wanted him to have his own career but she feared him not only cheating again—but possibly hurting himself!
"I'm afraid a lot of things could happen. He was going to take his life," she reminded the psychologist.
Meanwhile, McDermott claimed, "The cheating is done. Never, ever, ever again."
Article continues below advertisement
Spelling was convinced his Toronto shoot would put her marriage and family at risk and she'd live in fear if he went there.
Getting to the root of the problem, Dr. Wexler convinced Spelling to disclose to her husband, "I'm waiting for you to nurture me."
The actress theorized because McDermott grew up with an ill mother, he couldn't be nurturing because it reminded him of that bad time.
Spelling said she sometimes needed for him to treat her like a baby!
When they first hooked up, she thought, "Dean gives me everything. I found it all," she said to Dr. Wexler.
The therapist explained that it's a common marital myth that a spouse can give you everything you need.
McDermott told the cameras he would work on being nurturing, and then did a craft project for Spelling, getting a clerk at a DIY store to create a map and mark off landmark areas in their relationship, such as Fiji, where they had married. When they got to Toronto, however, McDermott paused, then told the store employee it was where they had conceived daughter Stella, now 5!
Article continues below advertisement
He also bought two dragon lizards for the kids and Spelling was touched by his gesture.
The troubled pair later visited Patti, a reiki stress therapist, who led them through healing exercises.
After that, McDermott cooked Spelling a special romantic sushi dinner for just the two of them.
"Why did you give me an oyster? Did you think it's an aphrodisiac?" Spelling said to the husband, who has famously dissed her for the lack of sex in their relationship.
He handed her flowers and said "I want to pamper you."
But McDermott had bought Spelling what he thought was lavender massage oil for her feet — and she insisted it was actually lubricant!
McDermott then gave her the map of their personal history. "I hope moments like this don't stop — I don't want to be a checked-out husband."
Spelling warned that she could give and give and give but once she was done, she was done!
Article continues below advertisement
He said, "I love you so much. I don't want to lose you."
Spelling replied, "I love you, too," but added, "You broke my heart. You humiliated me in front of the world."
Her love rat husband conceded, "I owe you a lifetime of apologies. I owe you a husband."
"And then some," she said.
"And then some," he agreed.
Spelling seemed satisfied, but told him their marriage had to change: "My heart can't take it anymore."
"I know. It will," he promised.