Exclusive
Sound Familiar? Tori Spelling's Cheating Husband Dean McDermott Claimed First Wife's Lack Of Affection Caused His Adultery, Divorce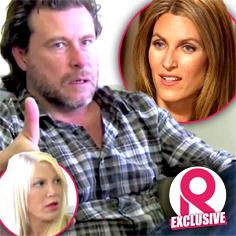 Once a cheater, always a cheater? After at least two instances of adultery, Tori Spelling's love rat husband Dean McDermott certainly has his excuses down pat. McDermott recently told the couple's marriage counselor that his "insatiable" desire for sex was partly to blame for his cheating, and now, RadarOnline.com can reveal that it's an excuse he's used before: The Canadian actor cited a similar reason for his split from first wife Mary Jo Eustace!
Article continues below advertisement
In divorce court documents obtained exclusively by RadarOnline.com, McDermott said his decision to file for divorce from Eustace after meeting Spelling in 2005 was because, "Approximately a year after our marriage, Mary Jo started to become distant and not interested in our relationship. Displays of affection and love had dissipated to the point of concern. I took it upon myself to try harder in the relationship and open discussions regarding our relationship and intimacy issues."
"The Respondent would say she would try harder to work on her intimacy issues," he said. "The results would last for maybe a week, and things would return to what they were. This pattern continued for 11 years."
During a recent episode of Spelling's reality show, which is documenting her attempt to reconcile with McDermott, after he cheated on her with a woman in Canada, the actor admitted his sex life with the mother of four, "wasn't fantastic all the time."
Article continues below advertisement
Spelling cried and told the doctor, "He was never happy. Our sex life was never enough."
She explained that after having four kids —Liam, 7, Stella, 5, Hattie, 2, and Finn, 18 months — it wasn't a reality to have sex multiple times a day anymore.
"It was never enough for you and there was nothing I could do about it," she told Dean. "I wore that guilt all the time, thinking, 'He's going to cheat on me.' I could never give him enough sex."
McDermott then said they'd have sex once every two weeks and "it wasn't fantastic all the time."
"What did I say?" he moped as a deeply hurt Spelling burst into tears.
"I thought he was really happy with me," said Spelling, crying uncontrollably.
Did Eustace feel the same way before McDermott ditched her for Spelling?
These latest court documents are only the second revelation from McDermott and Eustace's bitter divorce.
Article continues below advertisement
As RadarOnline.com has reported, Eustace filed explosive documents in the divorce proceedings accusing McDermott of abusing cocaine and even beating his dog!
According to Eustace's sworn 2005 declaration, she said, "In March 1999, I went to my parents' for a family gathering with Jack her son with McDermott, who was an infant at the time."
She claimed McDermott "missed the gathering because he didn't feel well. During the course of the event, Dean McDermott walked into the living room, threw a bag of cocaine on the table and said, 'I have a cocaine problem .'"
Eustace admitted to ignoring "the red flags" in her relationship with McDermott. At the "end of our first date," she said in the documents, "I noted his awful temper. We had a lunch date, and afterwards went to his house in Toronto to feed his dog. The dog had gotten into the garbage. Dean McDermott repeatedly and violently beat the dog with his fists and with a rolled up magazine. Dean McDermott was furious and it was very intimidating incident for me to witness."
The divorce between Eustace and McDermott was granted on March 13, 2006, after 12 years of marriage. He wed Spelling only weeks later on May 7, 2006. Eustace and McDermott share joint custody of their son, Jack.