'True Tori': Dean McDermott, Riddled With Guilt & Shame Over Cheating, Calls Himself A 'Fat-A**ed, Small D*ck, Zits-On-My-Back, Piece Of Sh*t!'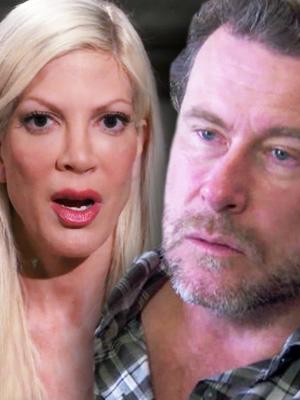 Tori Spelling realized everything changed in her marriage to Dean McDermott when they started having kids — and then he wasn't getting enough attention from her.
That's what viewers saw the former Beverly Hills 90210 star sadly admit on Tuesday night's episode of their Lifetime reality show True Tori, in which the couple tries to fix their crumbling marriage in the wake of McDermott's cheating scandal in Toronto.
Article continues below advertisement
And in the saddest moment of the series so far, McDermott was shown trying to explain to the oldest of their four children, son Liam, 7, why he was writing mommy a letter of apology.
On the episode, Spelling, 40, admitted to Dr. Ann Wexler during their ongoing couples' therapy that she had a hard time revealing her emotions to McDermott, 47.
But she told McDermott she wanted to know his true feelings about his fling, Emily Goodhand.
McDermott told Spelling he had met the other woman at a charity event.
"Emily was there and we got to talking," McDermott said. "I wasn't attracted to her — it was just like a warm body.
"I felt like I was on autopilot."
As Radar has previously reported, love rat McDermott had no problem criticizing his sex life with Spelling, saying because she was pregnant, he simply wasn't getting enough!
Spelling cried, "That's super unfair, I've been pregnant for six years."
Article continues below advertisement
He said, "But do I always want more with you? Absolutely. I'm insatiable. Every day, all day.
"She had complications from the last pregnancy and our sex life wasn't awful but it wasn't stellar," he informed the therapist.
But after Dr. Wexler pressed him, McDermott admitted that didn't give him the right to cheat.
An annoyed Spelling pointed out that just prior to McDermott's cheating incident, "We had sex all weekend."
The actress also said McDermott had flip-flopped, first saying he was attracted to Goodhand and then he wasn't.
"My worst nightmare is what I did. I cheated on my wife," McDermott said, though when asked if he was just sorry he got caught, he said, "I don't know."
The actor praised Spelling as close to being a perfect person, but looked at himself and said, "You're a psychopath. Dean, you're a f*cking monster. You're evil. I can't believe she's with me."
Article continues below advertisement
Spelling cried and revealed to the doctor, "He was never happy. Our sex life was never enough."
She explained that after having four kids — Liam, Stella, 5, Hattie, 2, and Finn, 18 months — it wasn't a reality to have sex multiple times a day anymore.
"It was never enough for you and there was nothing I could do about it," she told Dean. "I wore that guilt all the time, thinking, 'He's going to cheat on me.' I could never give him enough sex."
McDermott then said they'd have sex once every two weeks and "it wasn't fantastic all the time."
"What did I say?" he moped as a deeply hurt Spelling burst into tears.
"I thought he was really happy with me," said Spelling, crying uncontrollably.
Dr. Wexler told McDermott he was expecting a fairy tale and Spelling felt rejected.
The reality TV star wife moaned that she worried that she "wasn't good enough or … old or … not pretty."
Article continues below advertisement
Spelling revealed, "I had horrible relationships where I was told I was ugly. It took me years to feel good about myself."
The star said after giving birth to their fourth child, Finn, her "intestines came out" and she was left with a lump on her body.
"I just wish it were gone because I want to look good for you," Spelling sobbed.
McDermott insisted, "You do look good. I love that little bump, babe."
Dr. Wexler pointed out to McDermott that Spelling thought he cheated because she wasn't pretty or sexy enough!
The love rat denied that, but explained that he felt inadequate because the only reason he had any career at all was due to Spelling.
"All of a sudden I'm on your arm and everybody's f*cking interested and wants to know who I am and I get traction as an actor, people start offering me roles," McDermott recalled.
Article continues below advertisement
McDermott said he thrived on the attention that led to his affair, but Spelling insisted, "I give that to him! I looked at him the way she probably looked at him! I know a husband needs that."
McDermott protested that he didn't feel the love, however: "Every day I tell you I love you and how beautiful you look. I initiate everything. I don't feel like you feel like I'm the cat's a**. I feel like a fat-a**ed, small d*ck, zits on my back, piece of sh*t!"
Dr. Wexler concluded, "You're both completely insecure!"
The therapist told them to write letters to each other — Dean's to apologize, and Tori's to express her feelings of betrayal.
Later, McDermott took care of the kids while Spelling spent the day with her friends.
Spelling got together with Courtney and Jess and told them she'd told McDermott how she felt in therapy.
They talked about the tattoo Spelling has on her stomach that featured McDermott's wedding vows. She laughed to her pals that she wanted to add an arrow and "WTF" next to the tattoo!
Article continues below advertisement
As Radar has previously reported, McDermott's friend Wolf asked him why he cheated, and Dean said because he didn't think he would get caught -- and he was drinking and using drugs.
McDermott also revealed he wound up in the psych ward at UCLA Medical Center "on a 5150," referring to an involuntary psychiatric hold.
"I wanted to take my own life," he said.
Wolf said that would be selfish and McDermott said, "I know that now."
During his talk with Wolf, his son Liam walked over and accidentally kicked him in the testicles, causing McDermott to double over in pain!
Later, as he wrote his letter of apology to Spelling, Liam asked him what he was doing.
"How do you tell a 7-year-old your dad is a d*uchebag?" McDermott asked the cameras.
The little boy asked, "What did you do? Tell me!"
McDermott didn't know what to say, but finally told Liam "I did something really stupid," and that he was asking his mom for forgiveness.
Article continues below advertisement
Meanwhile, Spelling was dreading writing her letter, but finally wrote all four of their children's names on a piece of paper, saying "everything changed" when they were born.
Spelling felt it was "all about the baby" for her when they first had Liam, and McDermott felt gypped out of attention.
Later, True Tori viewers saw the couple have a spat after Spelling told McDermott the sauce he had cooked was too watery! The actor got visibly angry at her criticism. McDermott then ordered Spelling to get Liam, Stella, and Hattie out of her bedroom, where they had slept with their mom while McDermott was in a rehab facility.
"There's no room for me so I wind up sleeping in another room," McDermott huffed to his wife.
The frustrated husband told their kids, "You guys have got to start sleeping in your own room. This is ridiculous."
Spelling took her man aside and told him it would take awhile for the sleeping arrangements to change.
"I'm a grown man sleeping in a single bed," McDermott fumed. Then he added cruelly,"It doesn't make you a good mom to give the kids everything they want."
Article continues below advertisement
A hurt Spelling told the cameras while he was away from home, "For three months, I had to manage four kids and keep everything together the best I could! And it may not be what he thinks is right but I did a pretty good job! Maybe in mama's bed is where I want them and still need them."
McDermott mentioned that Spelling felt she had run things well on her own: "Do you not want me here? All I can do now is shut up and follow your lead.
"All I'm saying is, I'd like my bed back," McDermott said. "We're not connected now!"
And when they met Dr. Wexler for a follow-up session to read their letters, it was a disaster!
She told her husband that she felt everything had changed when they had their kids.
But Dr. Wexler said that wasn't enough and she didn't fully complete the assignment of explaining her angry feelings to Dean.
Meanwhile, he read his apology letter to Spelling: "I am so sorry for the unforgivable, irresponsible, self-indulgent, egotistical, self-seeking, arrogant behavior that took place in Toronto. I took you for granted. I hurt you so bad. I wouldn't want to be that hurt and feel that pain like that. It would kill me. To think of you with someone else would destroy me."
Article continues below advertisement
Spelling told Dr. Wexler, "It sounds nice," but she didn't feel anything!
Disappointed McDermott said, "It was a sh*t apology."
"I felt like there was no remorse," Spelling said.
As Radar has reported, McDermott wound up clutching his head strangely after Spelling reminded him he'd been cheating on her while she was at a Christmas event with their children.
Alarmed by McDermott's agitation, Spelling said, "This is why I don't bring up my feelings!"
Dr. Wexler said, "Come back, Dean, to this moment."
"He can't handle it," Spelling told her.
"We have to stop!" the star said with concern as the episode ended.