Dying To Be Thin: Candy Spelling Reveals How Her 'Body Image Issues' Led Daughter Tori To Write Emotional Letter Revealing Her Secret Pain​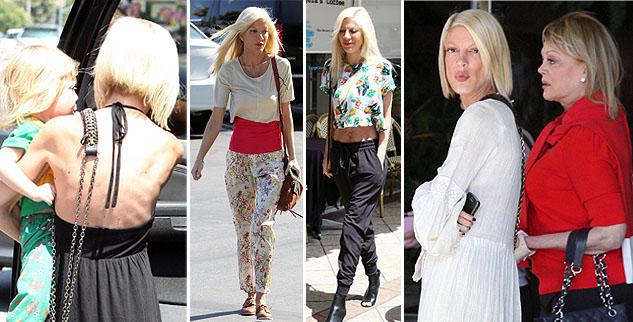 Tori Spelling's shockingly thin frame has drawn concern for years — most recently when she bared her shrunken midriff during a lunch date in L.A. with friends last week. She herself has admitted to following the "keep your f***ing mouth shut and eat air diet," and now, her mom Candy has revealed just how deeply disordered eating runs in their family. Candy confesses to her own "body dysmorphic syndrome" and drastic diets in her new book, Candy at Last — and reveals how she received a shocking letter from Tori about her secret pain.
Article continues below advertisement
"I think most women in Los Angeles and New York City probably suffer from body dysmorphic syndrome," Candy writes. "…In my case, I perceived an imaginary defect in my body. This started in my teen years, when, like most other girls, I was very preoccupied with my appearance."
Thus began a vicious cycle of binging and starving herself. "Obviously I was using the food as a coping mechanism," she explains. "First I deprived myself to feel more in control, and then I was out of control and eating everything."
Motherhood didn't change her perspective. "Once Tori was born, I got even thinner than I had been before I was pregnant," she admits. And when Randy was born, she dropped the weight quickly too. "My husband Aaron always thought I looked terrific, but I still couldn't see how I really looked," she confesses.
For years, she was a slave to this tragic pattern, which got even worse when Aaron was diagnosed with cancer in 2006. "I suppose I could have read a lot of books or taken up a new hobby, but honestly when you're stuck in all those feelings it's hard to break a negative pattern," she writes, and so she fell back into her cycle of deprivation and binging before deciding to see a psychologist.
Article continues below advertisement
"I realized I had body image issues and that I was eating to comfort myself," she reveals. "…My relationship with food and my ability to discuss my feelings are a work in progress."
And Tori -- who denied being anorexic in 2009 -- has been there for every step of the journey. Recently, she reveals, Tori "wrote me a beautiful letter in which she shared that it was painful for her to hear how critical I am of myself. …Children have different eyes for their parents."
Now, "Instead of being hard on myself for the number on the scale, I am trying to focus on the fact that I walked on my treadmill last night and also did my exercises in the swimming pool," she says.
Are you surprised by Candy's confession? Let us know in the comments!