PHOTOS: New Shocking Images Of Tori Spelling Looking Scarily Skinny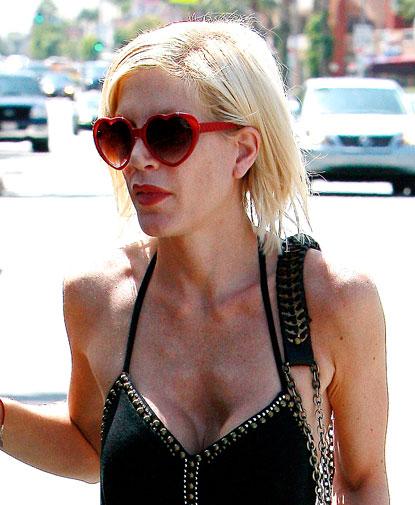 Beverly Hills 90210 star Tori Spelling looked skeletal during an outing with her son in Encino, California, on Thursday.
There has been steady concern about the 5'6" star's weight and she looks to shed even more pounds after a stressful week following her husband Dean McDermott's motorbike crash. Dean was released from the hospital on Tuesday but his wife still seems to be suffering from the incident.
Article continues below advertisement
The mother-of-two's large breast implants appeared to pop out of her shockingly sunken chest, while her ribs and collarbones poked jutted out. Tori's stick-thin arms barely looked strong enough to carry the weight of her three-year-old son, Liam, as she balanced him precariously on her bony hip.
The startling dent in Tori's chest is caused by a lack of soft tissue or fat around her breast, explained Beverly Hills plastic surgeon Dr. Ashkan Ghavami, who has not treated Spelling, in an exclusive interview with RadarOnline.com. "She went super big with her implants straight away, which causes problems."
"Huge DD implants on such a small frame stretches and thins the skin out," he revealed. "The sheer weight of them combined with gravity is literally pulling her skin away from her bones."
While it is not dangerous, the physical flaw is permanent – even further surgery would not solve the problem because the implant has already done its damage.
Dr. Ghavami says that Spelling's weight and age exaggerate the issue. "The thinner you get, you lose the little bit of fat you have left, and all you have is skin and implants. Skin is weak inherently and it gets less elastic as you age."
Article continues below advertisement
RadarOnline.com previously reported that Tori, 37, denied that she is suffering from an eating disorder, claiming that her emaciated figure is due to "swine flu, stomach pain and migraines."
Tori Spelling: 'I'm Skinny Because Of Swine Flu, Stomach Pain & Migraines'
The actress spilled details on her health problems in her new book, Uncharted TerriTORI. "I've never had a great stomach, but being sick just completely tore up my stomach and broke down my immune system, and I've basically just been a mess ever since, stomach-wise," the actress told USA Today. "It's about rebuilding my immune system."
Nutritionist Majid Ali (who has not treated the star) is suspicious of Tori's excuse. "She had the same problem of getting too skinny following her pregnancy – I don't think she had swine flu then!" he told RadarOnline.com.
Ali thinks that Tori is now even thinner – barely hitting the 100 pound mark. "She looks scary, she is not a safe weight at all," he warned.
A rep for Spelling did not return a request for comment.