Tori Spelling: How I Got My Body Back After 4 Babies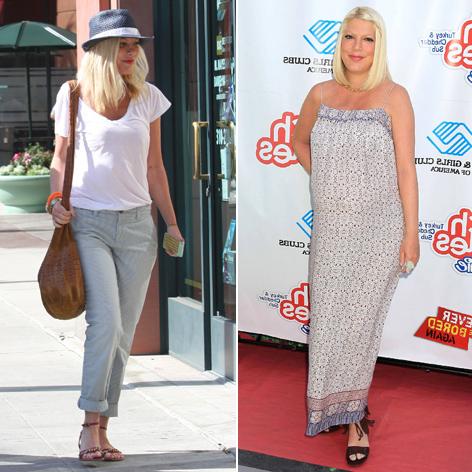 Tori Spelling is revealing her body secrets and workout routine after having four children.
The 39-year-old ex-90210 star has dropped a whopping 45 pounds since welcoming the latest edition to her family with Dean McDermott, baby Finn, in August last year.
Spelling tells US Weekly that she owes her weight loss from this birth to walks and playing soccer with Liam, 6, and Stella, 4.
"I still can't work my abdomen, so it's tough," she said, attributing her fast slim-down from her first two pregnancies to lots of situps and lunges.
Article continues below advertisement
"This time I can't for at least a year, so I've relied on healthy food and cardio. But I think my stomach went back pretty well."
After losing a few pounds a week, Tori hit a plateau, so she had to change up her workout.
"My doctor suggested I try swimming," said Tori, who underwent an emergency surgery for a burst C-section scar.
"It's good for the whole body and low-impact since you're weightless. So I started doing that in our pool in January. I don't count laps. I'll swim until I'm sore or play Marco Polo with the kids instead. I also started going on the elliptical and doing modified MMA. Besides my walks, I exercise three times a week forabout an hour each time."
As for diet, Tori has a hard time saying no to Dean's gourmet cooking, but had to force him to cook her healthy food like steamed veggies and salmon, so that she could lose weight.
What does an average day of her diet look like?
Spelling starts her morning with a brown rice cake smeared with Smart Balance chunky peanut butter and prepares snacks like nuts, edamame, hummus and beets with avocado.
For lunch, she loves soup, like a vegetable puree, or opts for a green salad with a protein.