'Just Own It!': Dean McDermott's Ex Mary Jo Eustace Tells Tori Spelling To Take Responsibility After She 'Dehumanized' Her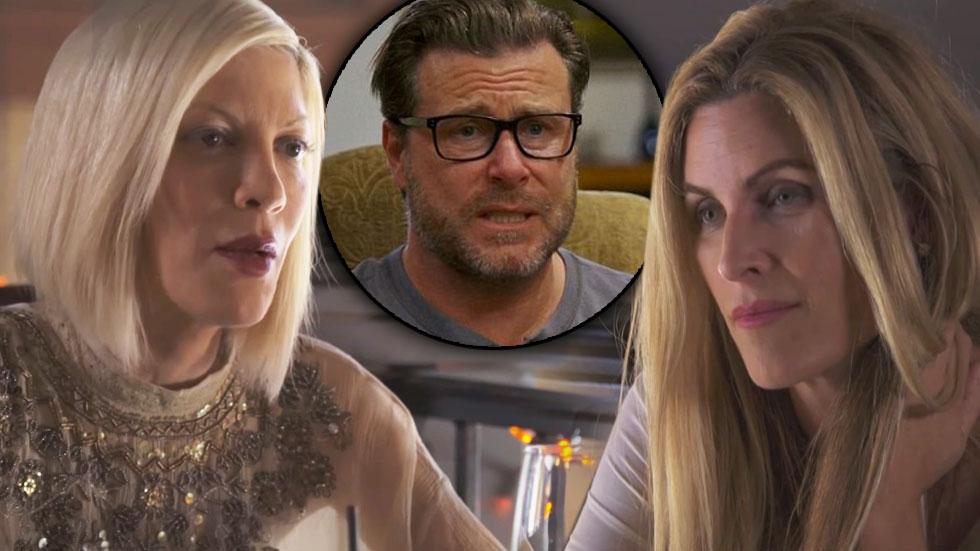 Tori Spelling had her hotly-anticipated showdown with Dean McDermott's ex-wife Mary Jo Eustace on Tuesday night's episode of True Tori.
And Spelling got schooled by Eustace, who accused the star of not taking responsibility for stealing McDermott from her.
On the Lifetime reality show, Spelling, who had earlier sought closure with her ex-husband Charlie Shanian, set up a meeting with Eustace to discuss disciplinary issues surrounding Jack, 16, McDermott's son with Eustace.
Article continues below advertisement
But Spelling admitted to the cameras that she really wanted delve into how McDermott had cheated on them both.
As RadarOnline.com readers know, McDermott, 47, and Spelling, 41, who both were married at the time, had an affair more than eight years ago. Ultimately, McDermott divorced Eustace, 52, and Spelling shed her then-husband Shanian. The cheaters later married each other and had four children.
But in 2013, McDermott betrayed Spelling by having a two-day affair with Emily Goodhand while shooting his show Chopped Canada in Toronto, and their marriage has been shaky ever since.
As she got ready to meet Eustace, Spelling was understandably worried her reaction would be, "Karma's a b*tch."
At their lunch, Spelling explained stealing Eustace's husband, saying she'd gotten a new perspective after McDermott was unfaithful to her as well.
"At the time, you're feeling in love and empowered," Tori said. "You're not intentionally trying to hurt people, but people get hurt."
She then told Eustace, "I'm sorry that I didn't handle it a different way. I understand a little piece of it now, how hurtful it is."
Article continues below advertisement
Eustace said she appreciated her apology but also told Tori sternly, "Betrayal is a horrible thing to be able come back from."
McDermott's former wife, who has written a vegan cookbook, sighed about being "so easily dismissed as if a 13-year marriage and two children was nothing.
"I was painted as this old, infertile, horrible, inconsequential, bitter ex-wife — that's not the case at all," she said. "I thought I was a good wife and a great mother. I was giving everything I could to support him; I created a great home."
Spelling said she never thought Eustace was crazy, but the ex-wife called her out, saying, "That's how you two came at me, initially."
While Spelling implied that was McDermott's decision, Eustace wouldn't let her off the hook, charging, "You were along for the ride — I was just so dehumanized."
Soon, Spelling was babbling, "I can't help that I fell in love with him.
"I know that doesn't make it easier or right. All I can say is when this happened with the girl in Canada, Emily, I didn't blame Emily. I blamed her for going to the press because I thought that was tactless."
Article continues below advertisement
Eustace interrupted the star and told her, "You know, I think Tori, truthfully, 'cause you're a smart girl. You are. You're both complicit in it. You should own it … you can't help who you fall in love with. I agree. But every choice has a consequence — it's not all Dean's fault, it's 50/50.
"We all made mistakes. Just own it."
Spelling's tense discussion with Eustace will be continued on True Tori next week.
Also on Tuesday's episode, viewers saw Spelling tell a friend that the first time she had a pow wow with Eustace over McDermott, during the affair years before that ended his first marriage, she secretly took a kitchen knife to the meeting!
Spelling had already revealed that shocking anecdote in her memoir, but her friend Courtney was stunned to hear it.
Courtney asked, "Were you terrified?"
"Beyond! Then, I was like, 'Is she going to try to kill me?' I went to that place … I was a freak about thinking the worst case scenario. I took a kitchen knife with me in my purse," Spelling said. "It had nothing to do with her. It was all about me."
Article continues below advertisement
Also on True Tori, Spelling planned a 16th birthday party for McDermott's son, Jack, and admitted she wanted to be the cool stepmom instead of a "stepmonster" who disciplined him.
After Jack invited 90 people, however, Spelling got stressed out and McDermott made his son reduce the guest list to 50.
Eustace attended the party and Spelling told the Lifetime cameras she felt insecure, as McDermott and his former wife chatted together in the kitchen.
"I want her on some level to accept me. I don't know why," Spelling noted, and also sighed, "They revert back to a married couple. They sit and talk about old times and rehash things, like 'remember that person?' They have a lot in common. I usually sit there feeling really awkward, not a part of things.
"And I have to admit in the past I have thought to myself once or twice, maybe they should get back together. They seem to have a lot in common. Their relationship kind of seems to work."
Article continues below advertisement
Meanwhile, Spelling and McDermott's marriage did NOT seem to be working as she was upset during a couple's therapy session after learning her TV show Mystery Girls had been cancelled.
Then, as McDermott looked on, Spelling gushed about her meeting with her caring ex-husband Shanian.
Spelling told Dr. Wexler that after she'd been intimate with Dean the night before, she wondered what their connection was beyond sex.
McDermott, upset about being compared to Spelling's first husband, said, "I know you weren't attracted to him physically. He's all emotional, I'm all physical."
After Dr. Wexler left them alone, McDermott fumed to the actress, "We have four children. Sometimes I'm stifled by it. I'm feeling like I'm not the person for you."
Spelling said, "When you say it like that, it makes me scared that you're going to leave me."
Watch the video on RadarOnline.com
At that, McDermott requested that the cameras be turned off.
True Tori airs Tuesdays on Lifetime at 9/8c.