Exclusive
Sorry, Tori! Spelling's Reality Show 'True Tori' Is Officially A Massive Ratings Bomb, Beat By Seinfeld Re-Runs — Headed For Cancellation?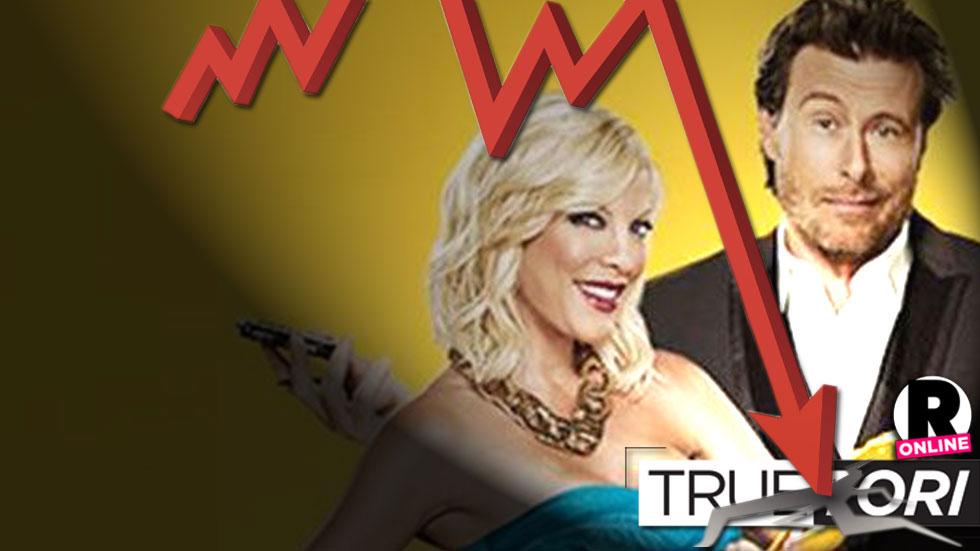 On a recent episode of True Tori, Tori Spelling broke down in tears over the cancellation of her show, Mystery Girls, frantically sobbing about her fears she wouldn't be able to support her growing family. But RadarOnline.com has learned, her main moneymaker isn't performing well either — since two weeks in, the Lifetime reality show is officially a flop!
Last season, True Tori debuted to just over 1 mllion viewers. But this year, the numbers weren't as encouraging.
Article continues below advertisement
Despite attempts to stir up drama with a fake pregnancy storyline, Spelling's show reportedly brought in only 766,000 viewers, and a dismal 0.3 in the crucial 18-49 year-old demographic.
It was beat out by re-runs of Family Guy, Spike TV reality show Ink Master, and adult cartoon Squidbillies, according to zap2it.com.
For week number two, the numbers improved slightly but not substantially, to a reported 781,000 viewers, staying flatlined at 0.3 among 18-49 year-olds.
Spike TV show Tattoo Nightmares: Miami trounced it in ratings, as did the children's cartoon Fairly Oddparents, Seinfeld re-runs, and an episode of Spongebob Squarepants.
Luckily for Spelling, the show only is scheduled to run for two more weeks, so it's unlikely it will be cancelled.
Do you think she should be signed on for another season? Let us know in the comments!