Tori Spelling Contacts Ex-Husband Charlie Shanian, Who She Left For Cheater Dean McDermott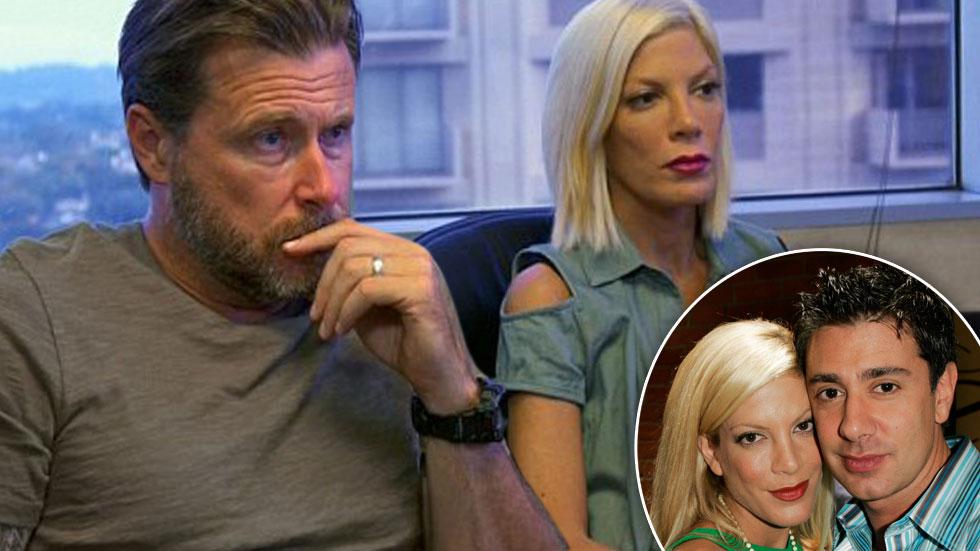 Desperately seeking closure, Tori Spelling planned to meet the ex-husband she had cruelly abandoned years ago for Dean McDermott.
And Spelling's surprising decision to contact Charlie Shanian came as second husband Dean McDermott pondered getting a vasectomy -- after Spelling flatly said she didn't want any more children with him in the aftermath of his cheating scandal.
That's what viewers of Lifetime's True Tori saw on Tuesday night's episode, as memories of the past came back to haunt Spelling.
Article continues below advertisement
The former Beverly Hills 90210 star left playwright Shanian after cheating on him with McDermott, who was also married. Eventually, Spelling and McDermott divorced their spouses, got married and had four kids.
But McDermott, 47, betrayed Spelling, 41, by having a two-day affair with Emily Goodhand in 2013 while shooting his show Chopped Canada in Toronto. Since then, he and Spelling have stayed together, gutting it out through the toughest of times.
On Tuesday's episode, Spelling revealed she's a hoarder, and as she tried to clean out her enormous storage unit with friends' help, she found mementos from her 2004-2006 marriage to Shanian.
"I felt like there was a lot of love with Charlie, but I didn't feel like I was in love with him, and when I met Dean, I fell in love," she said. "I had both.
"I had love and 'in love' so I ended that marriage with Charlie but I didn't do it properly and I've had regrets about it ever since."
Article continues below advertisement
Spelling, who wanted to make money by selling her old items, had trouble letting go of the baggage related to her first marriage.
After looking at her old wedding bouquet and a painting Shanian had given her, she remarked, "seeing these things in storage reminds me of how I ended that relationship and it weighs on me every day, the regrets of how I handled it."
Spelling and McDermott attended couples therapy with Dr. Ann Wexler, where the star told the doctor that she wasn't pregnant as they earlier suspected. A relieved Spelling told her that they'd talked about McDermott having a vasectomy.
"It's entirely because he cheated on me," Spelling said. "Because of what I went through, I know that I don't want any more babies with him."
At that, McDermott looked shattered, and both he and Spelling then got teary-eyed.
"There's consequences to actions," Spelling finally explained in therapy. "I felt the need to say it but now that I've said it I feel bad about the way I said it."
Later, McDermott expressed second thoughts about the vasectomy idea.
Article continues below advertisement
Spelling told her husband, "You broke that trust. A year ago, you were more set on doing the vasectomy and now I'm more set on doing it and you're sad about it.
"It's a role reversal."
Spelling told the cameras that a fifth baby would be too much stress so she wanted McDermott to get ahead with the operation.
Later, in a visit to urologist Dr. Werthman, a worried McDermott asked if a vasectomy would affect his testosterone production. The answer was no, so the actor decided to do it.
Dr. Werthman said the procedure would be easy: "We numb you up and when we're done, we put a band aid on, a jock strap, ice pack, and let you walk out."
But Spelling seemed more focused on her first husband, later telling her therapist about all the items related to Shanian in her storage unit.
"You haven't fully closed that book," Dr. Wexler sighed.
Then the star revealed she had ended her marriage to Shanian in a therapy session with Dr. Wexler.
Article continues below advertisement
"I wish I'd been brave enough to handle that conversation alone instead of having to do it with you in your office," Spelling told Dr. Wexler. "I never saw him again."
Spelling said she'd never apologized to Shanian and Dr. Wexler suggested she do so now.
The reality star felt she had to see Shanian "and properly have closure to that relationship" to move forward.
She later asked her current husband, "What would you think of me reaching out to him?"
"I'd be scared," McDermott admitted.
"Scared that I'd go back to him?" Spelling asked.
"You've told me what a great guy he is, very nurturing and caring and I know I'm not the greatest at it," he replied.
McDermott told the cameras, "I'm just afraid she's going to go and see Charlie and remember how great that was and go, 'Gosh, what did I do?'"
Despite McDermott's misgivings, Spelling decided to contact Shanian via email. He agreed to see her but on the day of the meeting, Spelling wound up sick with a migraine and canceled.
Article continues below advertisement
They rescheduled the meeting.
Meanwhile, McDermott dragged his feet on the vasectomy, especially about doing it on camera.
"It's my reproductive organs," he complained, and added about another reality star, "I don't want to be like Spencer Pratt. Does the world really need to see this?"
Adding to his angst, Spelling said she had changed her mind a little bit about having more children.
Spelling also confided in friend Courtney that she was on the pill.
However, McDermott indicated their oldest daughter, now 6, wasn't planned. "We had Stella on birth control," he said.
McDermott then broke down over his vasectomy decision, shouting, "This is crazy, no cameras, please, go!"
"I'm not going to do it," he finally told Spelling, citing how they connected through having kids.
Viewers also saw Spelling have a meltdown describing to McDermott how she felt about seeing her items in storage, which evoked memories of being the daughter of the late TV mogul Aaron Spelling.
"It's a life I worked very hard for. Everyone mocked me. They thought my dad gave me everything. They gave me nothing. I worked so hard for all of that -- it's my stuff," she raged.
True Tori airs Tuesdays at 9/8c on Lifetime.