Exclusive
Not Pregnant! Tori Spelling's Baby Lie Exposed On First Episode Of 'True Tori' — Despite 16-Day Sex-Fest With Dean McDermott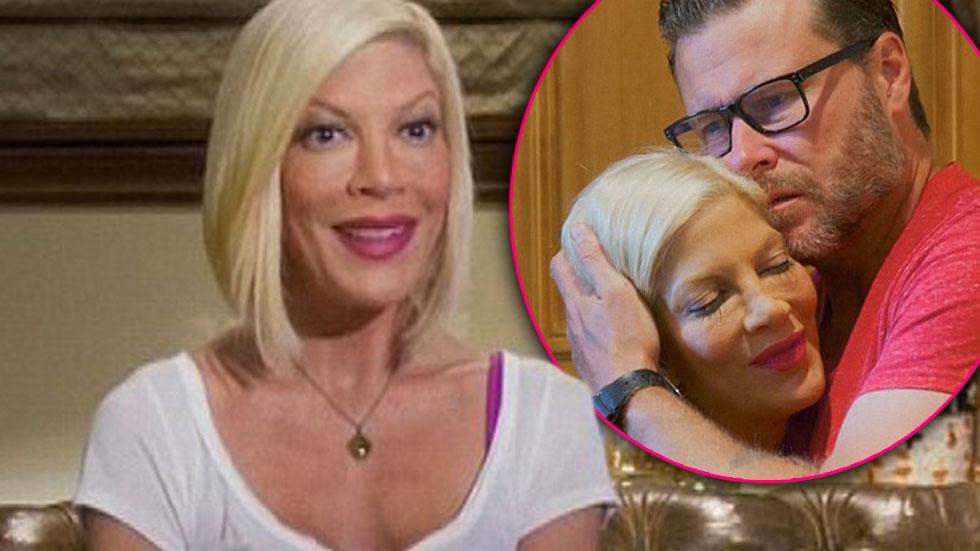 That was fast. Tori Spelling tried to start baby rumors earlier this month when she announced she "may be pregnant" in the teaser for the new season of True Tori. But by the episode's end, it was revealed, as RadarOnline.com exclusively reported, that she is not expecting — despite a 16-day sex fest with her husband, Dean McDermott!
This summer at the family's Malibu beach rental, Spelling and McDermott "had sex like crazy," she admitted in the season's first episode last night. "We were like newlyweds." In a classic case of Spelling TMI, she claimed they had had sex for sixteen days in a row — an improvement on the sex life McDermott had previously called "not great."
Article continues below advertisement
But back at home, the same unresolved fall-out from McDermott's affair last year lingered.
"I see the old patterns coming back," Spelling admitted.
"One of three things will happen," she explained. "One, Dean will change. Two, I'll accept Dean for who he is. Or three, we don't stay together."
On top of that, after the beach sexfest, Spelling claimed "I'm late."
Spelling put off telling her husband McDermott about the baby news, since he was struggling with yet another bout of depression.
"I'm afraid that he's gonna drink, that he's gonna use, that he's gonna try to hurt himself," she told their couples therapist.
And while McDermott claimed to have nine months sober, he admitted that he does not have an AA sponsor, and does not go to "enough" meeting. "I'm not gonna drink today and I'm not gonna use drugs today" was all he could promise his wife.
Frustrated, he complained, "Nobody has respect for me. I'm a laughingstock," because of his affair.
Article continues below advertisement
Meanwhile Spelling was also trying to deal with the fall-out from his affair and addiction issues, deciding to look at a photo of the woman he slept with for the first time.
Clearly stunned, she quickly moved into criticism. "Am I gonna be a bitch if I say I think she's unattractive?" she sniffed.
"I was shocked," she later told her therapist. "When I saw her I was just completely blown away by what she looked like. I found her unattractive. I would never in a million years look at this girl and before that be threatened by her. I'd look at her like, 'Oh no my husband would never.' Now it's like all bets are off. It could be anyone now."
Revealing that she'd even caught McDermott texting another woman recently, she said, "I feel like I've taken all these steps back of being able to trust him right now."
Stay tuned for more next week at 9/8 central on Lifetime!