Exclusive
Revealed: Dean McDermott's Ex-Wife Paid Thou$ands To Appear On 'True Tori'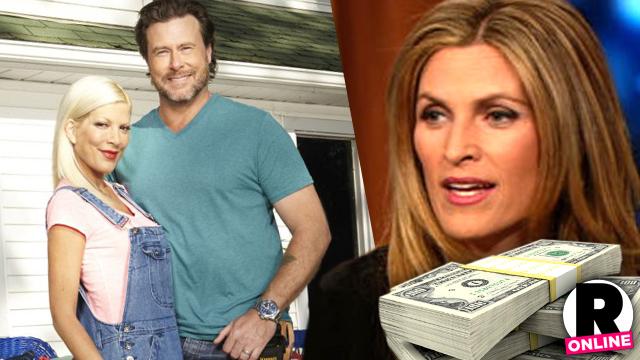 Dean McDermott's ex-wife, Mary Jo Eustace, has been paid $10,000 to appear on Tori Spelling's ratings-challenged reality show, True Tori, and has been promised that she won't be portrayed as the villain, RadarOnline.com can exclusively reveal.
"Mary Jo was first approached by Dean at Tori's demand to see if there was any interest in coming on the show," a source tells Radar. "Producers needed a new storyline for this season, and Mary Jo's name came up."
Article continues below advertisement
But Eustace didn't agree immediately. It took a lot of persuading to get McDermott's ex to agree to come on the show.
"At first, Mary Jo said no, but began to talk to Tori about it," the source added. "After being offered $10,000, and a promise that she wouldn't be portrayed as the evil ex-spouse, Mary Jo agreed."
Spelling famously hooked up with McDermott when she was married to another man, and he was married to Eustace. The cheating pair eventually left their spouses, got married and had four children.
Season two of True Tori premieres on Oct. 21, and in a preview clip, the mother of four and Eustace have a powwow about Dean.
Spelling admits to Eustace about love rat McDermott's unfaithful ways, "You can say 'I told you so.'"
But Eustace is forgiving and even humorous, telling Spelling, "I don't hate Dean. I mean he's a total knob. I know that. But he's your knob now."
Eustace admits that many people thought she would feel good that karma had come into play after McDermott had cheated on Spelling, too, but she says, "It's actually really horrible," noting how the couple's four children have been affected.
Spelling also has "clear ulterior motives in attempting to befriend Mary Jo on camera," the insider tells Radar. "She is hoping that this will make her more sympathetic to viewers. Also, it will make Dean look like a fool for cheating on both of them. It's dysfunction at its best."
As for the paycheck Eustace collected, she will be putting it towards her son's, Jack's, college tuition fund.