Birthday Blunder! Tori Invites Mom And Dean's Ex To Party In Tense 'True Tori' Preview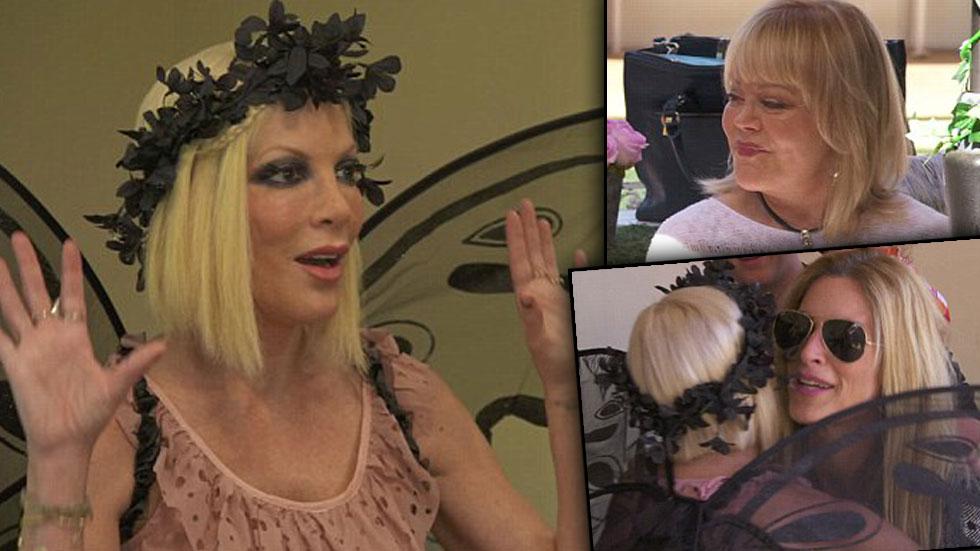 Article continues below advertisement
Though she wants her kids to have access to their grandma, Spelling explains that the two of them "don't have this relationship where we actively work on anything." Instead, "we just push it aside, both of us."
As RadarOnline.com has reported, Spelling revealed in a Nov. 17 interview on Today that during her recent hospitalization her mom didn't bother to contact her at all.
"Um...it's not something I'm willing to get in to out of respect, but nothing happened in the hospital," an emotional Spelling told Kathie Lee Gifford and Hoda Kotb, adding she didn't hear from her at all.
​
The True Tori preview shows that when guests start to arrive, including Eustace, the stress is too much for Spelling, and she begins to suffer a migraine. "I don't want today to be the day that I get sick," she complains.
Spelling hugs her former nemesis, but then makes a confession: "She's not the one I'm actually worried about being at this party."
While Spelling goes up to her room to deal with her headache, McDermott, 48, is left to greet her mom when she finally arrives — with Tatum O'Neal in tow.
Article continues below advertisement
"What is going on? This is turning into the weirdest three year old's birthday party ever," McDermott says during a confessional.
O'Neal then tells the flustered dad that she thinks Spelling needs to come down and say hi to her mother. "It would just look better…I mean for the show," she insists.
"I don't know why she brought Tatum O'Neal," McDermott later says. "It's just a really odd choice of a plus one."
When Spelling comes out of her room, McDermott is there to warn her about impending drama. "Be prepared," he tells her.
Watch the preview: