So Greedy! Candy Spelling Reveals Daughter Tori's Wild Spending Habits: She 'Would Close A Store And Drop $50,000 To $60,000'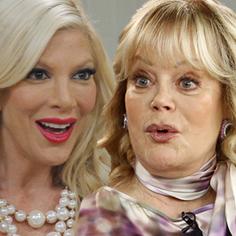 Article continues below advertisement
Tori's outlandish spending habits, Candy, 68, explains in the story, are the reason the star only inherited $800,000 from her late TV producer father Aaron's multi-million dollar estate after he passed away in 2006.
Despite her infamous money woes, Tori, 41, recently threw a $6,000 6th birthday party for her oldest daughter, Stella.
'It's not my fault I'm an uptown girl stuck in a midtown life," she recently said. "I was raised in opulence. My standards are ridiculously high. We can't afford that lifestyle, but when you grow up silver spoon it's hard to go plastic."
In addition to their financial concerns, Tori and McDermott, 47, are famously in the middle of a marital crisis: The couple of eight years fought to save their relationship after the actor cheated with a younger woman in their Lifetime reality show, True Tori.