Tori Spelling Blames Dean McDermott For Not Letting Her Mourn Her Father Aaron Spelling: 'I Remembered When My Dad Died, You Made It All About You'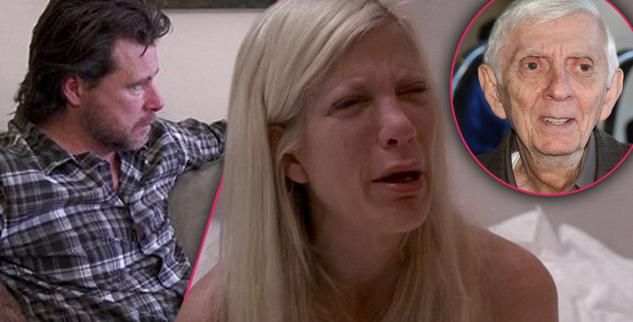 Tori Spelling's Lifetime reality show, True Tori, finally ended on Tuesday night with a Confessions special in which the former Beverly
Hills 90210 star reflected on the most explosive moments of the season and introduced never-before-seen footage.
And one of the outtakes revealed that Spelling had accused her cheating husband Dean McDermott of not allowing her to properly mourn her famed father, TV mogul Aaron Spelling.
Article continues below advertisement
During their reading of personal letters to each other, McDermott mentioned the death of his mother.
Then, Spelling revealed a painful memory from 2006: "I remembered when my dad died, that night, back at our house, you made it all about you. I wasn't allowed to grieve because I had to take care of you and you took that away from me -- you took away the grief for my father -- you were feeling really bad, you didn't have the chance to get to know him," Spelling, 41, said to her husband, 47, during the therapy session with Dr. Ann Wexler. "And you wouldn't have that chance, everyone would be judging you and it turned into a fight."
McDermott, getting defensive, shot back, "I get emotional around death."
Spelling sighed to Wexler, "I was just about to have a moment about talking about my father dying that day and it became so about him."
In other previously unseen footage, Spelling grilled McDermott for more details on his two day affair in Toronto with Emily Goodhand which inspired the show True Tori.
"Why did she say you guys cuddled all night?" she asked her husband about Goodhand.
Article continues below advertisement
He replied, "We didn't. You cuddle with someone you have a connection with."
McDermott said Goodhand stayed from 5 in the morning and left at 9.
"You didn't touch her when you slept? You didn't spoon her?"
"No," he claimed.
And as RadarOnline.com has previously reported, Spelling told the therapist McDermott was lying when he said they rarely had sex before he cheated.
"I was doing everything he wanted," she fumed.
Then, Spelling told the Confessions cameras, "I know there's been a lot of speculation from fans, what were they doing sexually in the bedroom? Obviously, I don't want to get into details about what we did because a lady never tells but I will just say Donna Martin definitely graduated," she said, referring to her Beverly Hills 90210 character.
When McDermott spoke on camera about almost committing suicide, Spelling said, "I'm glad he made the decision to talk about it," because otherwise, people would have wondered why she was a doormat who never said anything.
Article continues below advertisement
Viewers also saw the star claiming to a producer while chowing down, "This is my weakness, fast food tacos."
Later, Spelling got a tattoo to pay tribute to their four kids, her children's initials with an arrow attached on her wrist.
She said with an arrow, "You focus on where you want to go and then move forward."
At the end of the show, Spelling admitted when McDermott left her and their kids to shoot Chopped Canada in Toronto, "I thought at the end of the journey I would have more clarity. The reality is, I was still left in limbo."
But she concluded of the TV show saying, "He joined me in this journey and was willing to do this to heal us. I don't know what the future holds but I'm not going to let the past define us. I have hope. That's my truth."