Exclusive
What Money Problems? What Marriage Problems? Dean McDermott Flies In For Daughter's 6th Birthday, Tori Spelling Shells Out $6,000 For Over-The-Top Party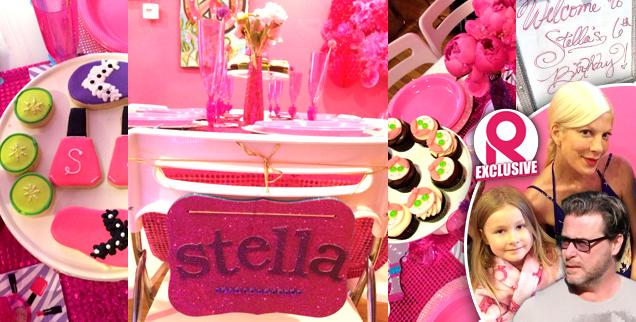 Article continues below advertisement
"Dean flew in for the weekend to make sure Stella's birthday was special for her, even though he had to board a plane back to Canada just hours before her party on Sunday," the source told Radar.
"So Tori and Dean celebrated Stella's birthday with family and friends on Saturday.
He and Stella baked cupcakes for the party on Sunday, and he took her for a special daddy-daughter date to the movies that afternoon."
But the real birthday blow out was Sunday at Le Chic Spa in Tarzana, Calif. where Spelling threw a $6,000 party for Stella and her closest 18 friends to be primped and pampered.
"Stella loves playing dress up and looking like a princess and she loves getting her nails done.
Tori arranged a special spa day for Stella and her friends that set her back $90 per child for manicures, pedicures, organic facials, and new hair do's," the source revealed.
Article continues below advertisement
"She also made sure each child had a spa robe, and light-up spa slippers to take home. All the girls got Sketcher backpacks filled with all kinds of goodies including Disney DVD's, sparkly nail polish, costume jewelry, Barbie dolls, and lip gloss."
Spelling, 41, even hired singers to dress up like Elsa and Anna from Stella's favorite movie, Frozen, to sing her favorite songs at the party.
While most kid's birthday parties serve up food like hot dogs and pizza, partygoers at Stella's sixth dined on tamales, sushi, raw veggies and Jell-o cups!
"There were also homemade cupcakes — compliments of Dean and Stella — cookies, and a huge cake in the shape of a tube of pink lipstick. And there were enormous baskets of organic fresh fruits," the source said.
"Stella had her tonsils out just two weeks ago, but she seemed completely recovered from the ordeal as she laughed and played with her pals and sang along with the Frozen sisters."
The source added, "Tori managed to pull off a really great party on her own. She has been working full time on her new series, Mystery Girls, and caring for their four kids on her own with Dean away filming. She's really a strong woman, and she's obviously a super mom . . . just ask Stella!"