Exclusive
Dean McDermott's Chopped Canada  180 — All Work & No Play: 'Flirting Is Off Limits' For Tori Spelling's Cheating Hubby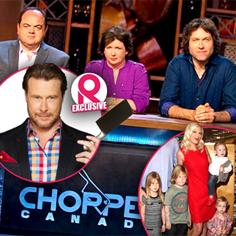 Article continues below advertisement
"Dean isn't really saying much about what happened last year, but if he mentions Tori and the kids at all it's just to say how great they are and that he misses them," the source revealed.
"Of course his filming schedule is a bit different this year, but he really does seem to want to make his marriage work."
McDermott was spotted back in Los Angeles last weekend, out for a family dinner with Spelling and their 5-year-old daughter Stella.
The threesome appeared casual and at ease, without a hint of all the trauma they've been demonstrating on their show which has focused on the cheating scandal that drove them apart.
"So far it doesn't look likely that there will be a repeat of last year," the source added.
Do you think Dean is serious about saving his marriage with Tori, and should she trust him to be alone filming in Canada? Sound off in the comments below . . .