Exclusive
Married For Ratings? Tori Spelling Consults Divorce Attorney, Indicates She's Ready To File & Split With Cheating Hubby Dean McDermott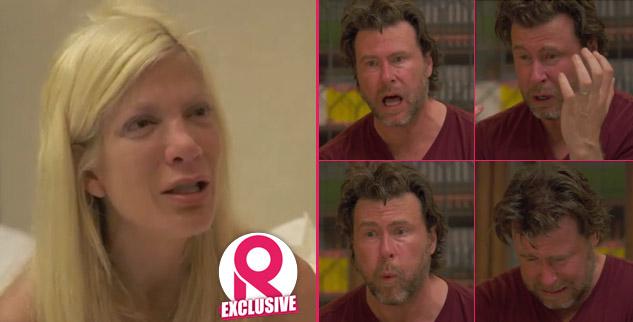 Since filming began on Tori Spelling's train wreck reality show, True Tori, the 90210 actress has met with a divorce attorney and has told her cheating husband Dean McDermott that she is ready to pull the plug on the marriage, RadarOnline.com is exclusively reporting.
"Tori has actually been consulting with several very prominent divorce attorneys since Dean went to rehab. One advantage with Tori's strategy is that Dean won't be able to hire anyone she has previously met with. Dean is aware that Tori has met with divorce attorneys and it doesn't phase him," a source told RadarOnline.com.
Article continues below advertisement
"At this point, the entire relationship is beyond repair and they are constantly fighting, even more so when cameras aren't rolling."
In a recent preview clip of True Tori, McDermott and Spelling engage in a screaming sob-fest over the Chopped Canada host's infidelity.
"I don't deserve any of this, I don't deserve this beautiful family," McDermott, 47, cries to Spelling in the couple's bedroom.
"You don't deserve any of it?" she asks. "And yet you have it. You have all of it. We're all still here!"
"What do I need to do?" he asks through his tears.
"Do something right. You need to do something right," she tells him.
Friends of Spelling have been "begging her to ditch Dean for years! She has never been able to trust him, and is always has horrible migraine headaches, which they blame him for. Tori would have divorced him much sooner, if she had been financially been able to do so," the source added.
Article continues below advertisement
"Ultimately, Tori is afraid Dean is going to come after her for spousal support, and possibly attempt to get full custody of their four children."
As RadarOnline.com previously reported, McDermott admitted to cheating on Spelling, 40, with a 28-year-old woman named Emily Goodhand while in Toronto last year.
Despite getting an ironclad prenup with her first husband Charlie Shanian, Spelling didn't get one with McDermott because she didn't think she needed it.
Spelling's net worth has been the subject of much debate with some reports placing it as high as $300 million, while others have suggested she is broke and the treasure chest has evaporated to as low as $1.5 million.
Her mother, heiress Candy, is said to be sitting on a whopping $600 million!
With production wrapping up on True Tori, the actress "won't file until the last possible moment, perhaps even to try and garner higher ratings and a spin-off," the insider revealed.