'We All Had The Best Time Celebrating Stella': A Look Inside Tori Spelling's Extravagant Bash For Daughter's 6th Birthday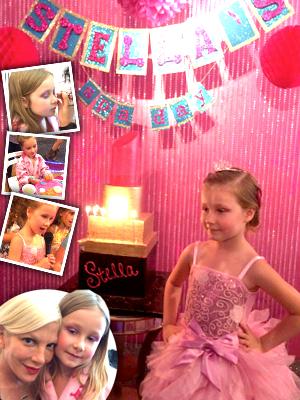 Tori Spelling knows how to put on a party.
The mother-of-four on Thursday shared with the world, via her picTORIal blog, new shots and videos of the $6,000 bash for her daughter Stella this past weekend.
The reality star threw a party of such grand proportions it put most adult celebrations to shame, boasting, "We all had the best time celebrating Stella."
Despite her purported financial issues, the former Donna Martin spared no expense in making sure every detail was precise for the tot's annual big day, including actresses dressed up as Disney characters a stage with a full karaoke set-up; impeccable catering for all pallets, featuring fare ranging from sushi to mac & cheese to tamales.
Article continues below advertisement
Watch the video on RadarOnline.com
youtube
"There were also homemade cupcakes . . . cookies, and a huge cake in the shape of a tube of pink lipstick," an insider at the affair previously told us. "And there were enormous baskets of organic fresh fruits."
Stella's pals also went home from the soiree, held at Le Chic Spa in Tarzana, Calif., with amazing swag bags, akin to a gifting suite for children.
Watch the video on RadarOnline.com
"She also made sure each child had a spa robe, and light-up spa slippers to take home," the insider said. "All the girls got Sketcher backpacks filled with all kinds of goodies including Disney DVD's, sparkly nail polish, costume jewelry, Barbie dolls, and lip gloss."
Watch the video on RadarOnline.com
youtube
As we previously reported, the 41-year-old reality star, who has been baring her soul — and marital shortcomings with her husband Dean McDermott — on her latest TV venture, True Tori, ripped open the purse strings for the event, as a chunk of the $6,000 tab was also allotted to spa days for nearly 20 of her daughter's pals.
"Tori managed to pull off a really great party on her own," the source said. "She's really a strong woman, and she's obviously a super mom … just ask Stella!"