Kourtney Kardashian: Scott Disick Swallowed Entire Bottle Of Pills, Checked Himself Into Hospital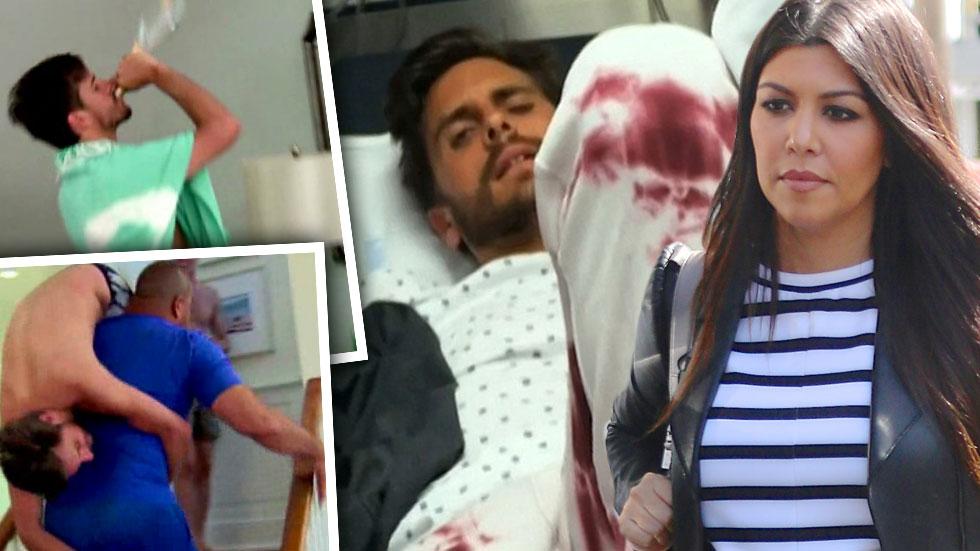 A near-deadly mix of booze and sleeping pills sent Scott Disick to the hospital on Sunday's episode of Kourtney & Khloe Take The Hamptons.
While the incident had previously appeared in E! teasers, viewers finally saw how Kourtney Kardashian's baby daddy's ugly drama played out.
Kourtney, who had left the Hamptons to visit Los Angeles with sister Khloe, told Kim Kardashian that she had missed numerous calls from Disick.
Article continues below advertisement
She then said he had called Khloe "saying that he's gonna die and he took all these pills."
Kourtney told the cameras that Disick had called her "after drinking and then mixing it with sleeping pills.
Watch the video on RadarOnline.com
"I think he was really truly scared."
Khloe then filled Kim in on the details, saying Disick's friend Chris had hidden his sleeping pills after a night of partying, explaining,"It's an anti-anxiety medication, but also like a sleeping pill, so he takes it every night."
Kourtney said Scott "kicked in the door" to get his pills and Khloe said, "He took the entire thing!"
"He took all the pills," Kourtney confirmed. "He was just saying, 'I'm not going to make it – I think I'm going to get my stomach pumped." I said, 'Call 911 now. Get someone there immediately!' And so he went," Kourtney said.
Kourtney said Disick had never before said he needed to go to a hospital emergency room.
Article continues below advertisement
"I don't think he's probably ever taken this many sleeping pills after drinking," she said. "My biggest fear is that he continues on this road I don't know where that could lead."
Fans saw Disick lying in bed after his hospital stay and admitting,"Last night, I was just scared: My heart was racing and at the same time, my sleeping pills were kicking in and pulling my heart down. I thought that was going to be my time."
Disick told the cameras that after making a personal nightclub appearance in Kourtney's absence, he went back to their Hamptons rental house and partied all night long, drinking heavily and then taking pills.
"I just felt like the only option was to go to the hospital," he said.
There, a doctor was shown telling Disick he'd be fine – but to lay off the booze and pills.
Later, Disick talked to Kourtney on the phone and they discussed rehab, but he objected to spending 30 days away from their kids.
Article continues below advertisement
Kourtney ordered Disick not to make excuses and warned him he could be away from them for 30 days – or forever!
"I need to make a change and that may be checking into some kind of facility," Disick confided.
Earlier, viewers were treated to scenes of Disick being so drunk that he was falling down at home and having to be helped into bed by his security guard.
He also begged a friend, "Let's take one pill together" and put his tipsy hands all over Kourtney's friend Allie, who was there to keep tabs on him.
"F*ck this little white girl!" disoriented Disick shouted.
Also on the Hamptons episode, the reality TV party boy was disappointed when he wasn't accepted as Khloe's co-host for a radio show.
Khloe was all for it, but "Momager" Kris Jenner told her the radio crowd saw Disick as a loose cannon.
Jenner said he was "trying to sell him as hard as she can, but nobody's buying – they're excited about you – just not so much about Scott."
Article continues below advertisement
Khloe told Disick it wouldn't happen for him.
Meanwhile, Kim asked Kourtney if she could use the lawn of her L.A. home to have a first birthday party for North, her daughter with Kanye West.
Irritated, as she had been remodeling, Kourtney said no.
But she found out Kim was going ahead with the party anyway and incredibly, Kourtney made a trip to L.A. to shut North's celebration down.
"I can't believe Kim – totally disregarded what I said," Kourtney raged.
She confronted her sister as Kim was setting up for the party at Kourtney's estate.
"You don't have respect for your older sister," Kourtney fumed.
Soon, Kim revealed to Kourtney that she would have loved to have North's party at her own home, however, they were still living with Jenner.
Kanye's pampered wife complained, "I'm exhausted at being at mom's.
"There's just not enough space. I'm really sorry for having the party without telling you. I'm so beyond frustrated because our house in Bel Air is taking forever – that's like two years I've been living at mom's.
It's her first birthday and I want it to be special." At that, Kourtney understood and let Kim hold the bash, complete with a ferris wheel for North.
"It's a perfect celebration," Kourtney said.
Kourtney & Khloe Take the Hamptons airs on E! Sunday at 9/8c.