No Ignori? Kim Kardashian Claims She Didn't Forget North West In Lobby – 'She Was Waiting To Check Out!'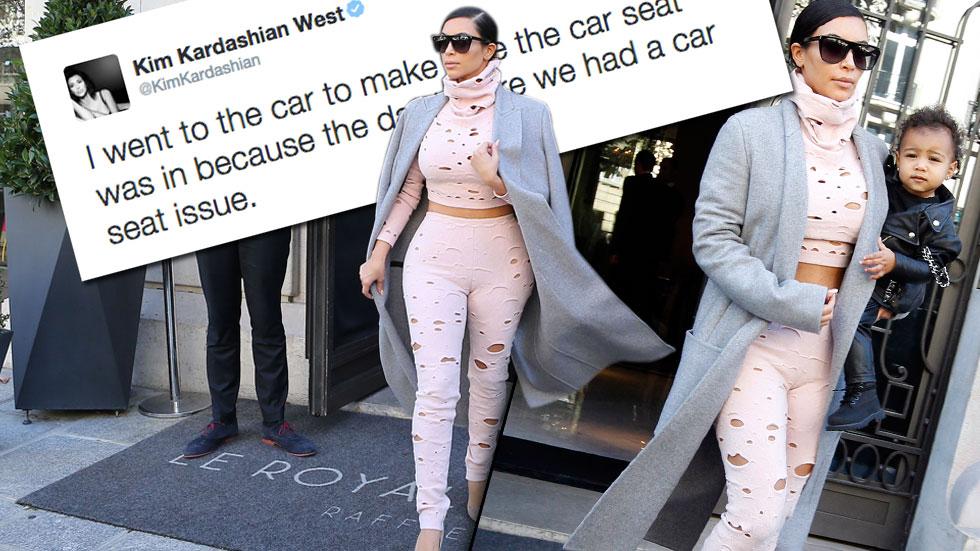 After getting caught on video for leaving poor Ignori in a hotel lobby in Paris, Kim Kardashian decided she had some explaining to do – via Twitter, of course.
The reality star took to the social media site to blast reports that she had left her daughter, North West, in her hotel's lobby before jetsetting back to Los Angeles. While she probably would never admit to forgetting about her child, her reasoning seems a little suspect.
Article continues below advertisement
The Keeping up with the Kardashians star tweeted, "Heard on the radio today some story I forgot my daughter at our hotel as I'm leaving for the airport. Are you kidding me?!?!?! LOL.
"I went to the car to make sure the car seat was in because the day before we had a car seat issue."
We're kind of surprised she doesn't have someone on staff to check the car seat for her!
But the mom-of-one went on to make light of the video that has since gone viral by making a joke of the whole situation. She continued to tweet, "Do u guys really think a 1year old would be inside the lobby by herself! Oh wait she was waiting to check out lol."
Do you think this is just an excuse, or do you think Kim Kardashian was really checking the car seat? Sound off in the comments below.