Final Fight! Teresa Giudice Goes At It With Teresa Aprea Over Cheating Rumor, Before Saying Goodbye To 'RHONJ'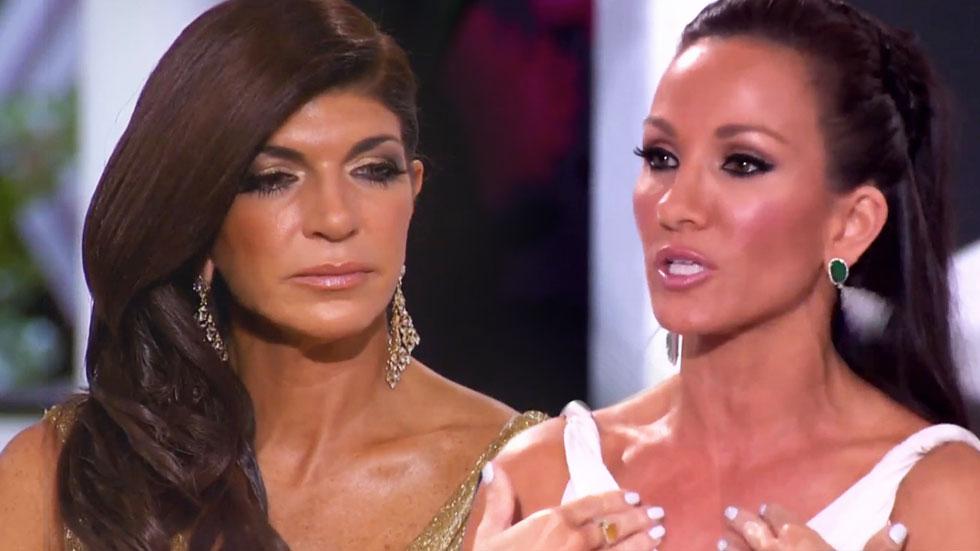 Did he or didn't he?
That's the question viewers have been asking all season regarding the rumor that Rino Aprea cheated on his wife Teresa Aprea with her mother.
And while viewers will never know the truth, one rumor was set straight during part three of the Real Housewives of New Jersey reunion special: Teresa Giudice will be leaving the show.
Before fans could officially say goodbye to the housewife who made reality TV history by flipping a table and continuing to bring in viewers with her hot-tempered, no filter personality, they got one last fight out of the infamous Garden State girl.
Article continues below advertisement
When Cohen asked Teresa Aprea if the rumor that her husband cheated was true, she answered, "Not a shot in hell. We're talking about my mother. My mother would never sleep with my husband."
When Giudice told Cohen that she isn't sure if she believes the rumor, Aprea fired at her, "Common sense Teresa! Is your mother going to f*ck Joe? Then have the same respect for my mother."
Giudice asked, "If it's not true, then why are you getting so heated about it?"
"It's a lie, it's disgusting, it's slander," Aprea answered. "When I heard things about you, things I could've brought to the show about you and your husband, I would never do that."
During the season, Aprea said in her confessional about Giudice's legal troubles, "Karma's a b*tch!"
PHOTOS – 10 Cougars Who Have Gone Under The Knife
When asked by Cohen if she stood by the comment now that Giudice was sentenced to 15 months in prison, Aprea said, "When you're hurting people deliberately, you can't expect blessings back."
Article continues below advertisement
Cohen wanted to know what Giudice's motive could have been to want to hurt Aprea and her family.
"I really believe that you like the be the queen of your castle. I think my family was getting a lot of attention," Aprea answered.
Giudice fired back, "Get all the attention you want, trust me!"
"I just think you wanted the attention off of you and your case and your negativity so let's just throw someone else under the bus," Aprea continued. "Teresa, they were getting mad at you because you weren't bringing anything to the show."
The jail-bound housewife responded, "I wasn't bringing anything to the show? The whole show was about me!"
When Cohen asked if there was any hope that the women could make up Giudice said, "It's up to her," as Aprea responded, "I think we needed to get this out, it's the reunion … I forgive."
Watch the video on RadarOnline.com
But that wasn't the reunion's only showdown!
Jim Marchese continued his rude reign when a clip played of him spilling the rumor to the group in Florida.
Article continues below advertisement
Rino Aprea, who chose to not stay in the Florida house, said in response to the video, "I was glad I wasn't at the house because it was a good decision because I don't argue with people, I take care of things."
"Rino you chose to hide like Bobby did," Jim replied, referring to when Bobby Ciasulli stayed in the bathroom as the housewives battled it out with Marchese in Florida.
When Ciasulli began to interrupt Marchese he yelled, "I let you finish, I let you talk, now be a man and sit down and be the little b*tch you are and shut the f*ck up."
But nothing was more shocking during the special than when Jim actually apologized to the Aprea family.
"I will apologize formally for my drunken a**hole behavior for both you, your mother, your father, I was hammered," he said as they acknowledged the apology.
Cohen then asked Manzo what she learned from the season. "Once you walk away from something remember why you did … I'm all about living in my truth and I don't like fighting."
Article continues below advertisement
When Cohen asked if Manzo would return next season she said, "No."
When it was Giudice's turn to share, she said, "I just want to apologize to all my fans out there that I let down. I'm going to make myself a better person and grow."
After Cohen asked if this is it for Giudice she tearfully responded, "Yeah, I think so. You're going to make me cry Andy! This is probably going to be my last reunion."
"I'm getting a little emotional with you having this conversation," Cohen said, "I feel like you've been through so much on this show.
"You really made reality TV history when you flipped that table!"
Giudice replied, "I can't believe I did that! Season one was fun … Maybe you'll see me on a cooking show!"
Manzo commented about her best friend, "She's going to survive and five years from now they're going to be better than ever."
Watch the video on RadarOnline.com