He's Baaack! Jim Marchese Fires At Bobby Ciasulli, While Amber Marchese Battles It Out With Nicole Napolitano On 'RHONJ' Reunion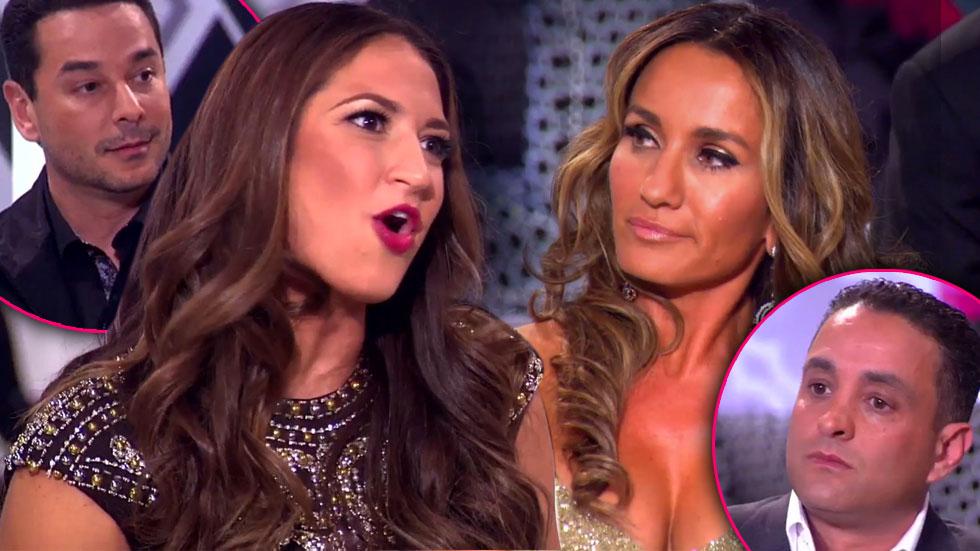 New girls Amber Marchese, Nicole Napolitano and Teresa Aprea may have upstaged the vets with their drama on this season of The Real Housewives of New Jersey, but no one was more controversial than instigator Jim Marchese.
During part two of the reunion special, Andy Cohen invited Amber's husband to the group to discuss his feuds with all of the cast members this season.
"If you're kind to me, I'll be kind," Jim told Andy. "If you're cruel, Andy, I will show you cruel in this world."
Article continues below advertisement
When Cohen described Jim as a "blow-up-a-bridge kind of guy," Jim responded, "You cross a line, I'll burn you to the ground."
Amber then touched on how Bobby Ciasulli might not be with his girlfriend Nicole for the right reasons.
She said, "I had a lot of conversations with Bobby and they weren't good about Nicole. He did not seem like he loved her, not at all.
"He wanted to be the show. He would've done anything to be on the show," she continued. "He was waiting for the contracts to come in and if the contracts weren't coming in, he was hightailing out of there."
When Bobby insisted that those accusations were false, Jim pulled out a folder of "evidence."
"See that little f*cking fame whore," Jim said to Joe Gorga while showing him a photo.
Jim then showed the cast photos of Bobby with Melissa Gorga at her book signing, Teresa Giudice at her signing and Jacqueline Laurita at her event to prove that Bobby was a fan of the show.
Jim quipped, "Bobby always wanted to be a Real Housewife!"
Article continues below advertisement
Watch the video on RadarOnline.com
Andy later asked Jim why he didn't break up Amber and Nicole's catfight, over claims Amber made that Nicole broke up a family.
When Jim explained that Teresa Aprea's husband Rino refused to help break up the fight, Teresa defended her husband by saying that men don't get involved in catfights and that she could handle herself.
Amber said of the two-on-one scuffle: "Excuse me, there are two of you, I would love to see how tough you guys are separated."
"Amber put me alone, one-on-one with you," Nicole fired as Amber responded, "I would love to see it!"
Watch the video on RadarOnline.com
The way Jim speaks to women was also a hot topic: When he explained that he treats women the same way he treats men, Dina said, "I'm not going to call him a vagina anymore because that's an insult to us women. I'm going to go with mangina!"
Jim shot back, "Really Dina? Your Zen bullsh*t does not work in my world."
Article continues below advertisement
When asked what Joe Gorga thinks of the way Jim speaks to women he replied, "I think that's terrible, I would never."
Jim fired at him, "You called your sister a scumbag!"
Joe yelled, "Why don't you shut up about my sister? Don't f*cking repeat it!"
Andy also touched on the Teresa Aprea and Teresa Giudice feud during the season; Aprea said of the Giudices' legal woes: "It's a tragedy what you're going through.
"I can't be a hypocrite, I can't sit here and act like everything's fine ... that was my mother. She brought Victoria on the show," Aprea explained of the rumor Victoria Gotti told Teresa Giudice and Amber that Rino cheated on Teresa with his mother-in-law.
When Andy asked if Teresa Aprea regretted saying, "Karma's a bitch, clink, clink," she replied, "I will never wish bad on anybody."
Watch the part three of the Real Housewives of New Jersey reunion special on Tuesday at 8/7c on Bravo.