Judgment Day! Teresa Aprea Fights With Teresa Giudice Over Infidelity Rumor, As Guilty Giudices Are Sentenced on 'RHONJ' Finale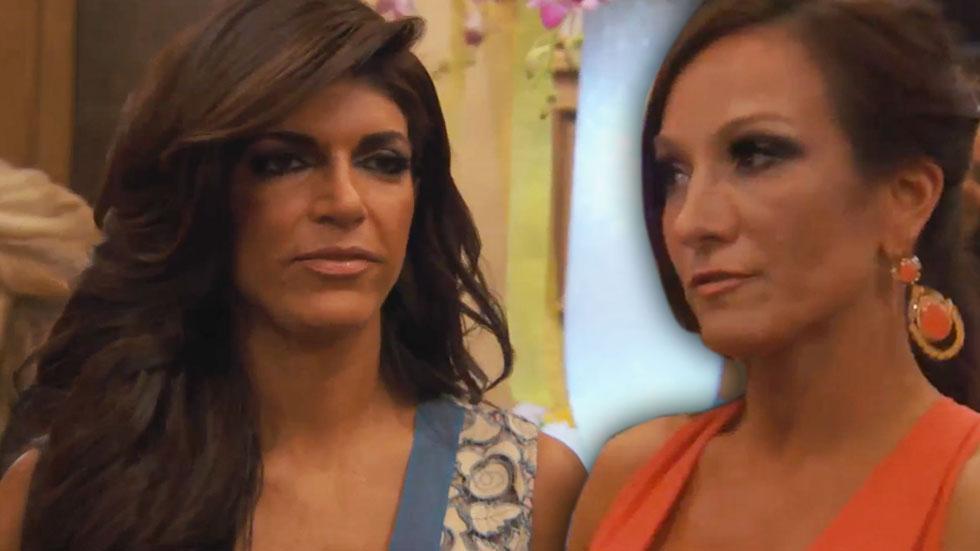 Teresa Giudice entered the Real Housewives of New Jersey with a table-flipping bang, but how will she leave? In a way no one expected.
On last night's finale episode, which could be Teresa Giudice's last after her 15-month prison sentence, Teresa Aprea finally confronted Teresa Giudice about spreading a rumor that her husband Rino cheated on her with her mother, Santa.
The twin said in her confessional, "Teresa, you just sh*t all over my family. I would never do that to you.
Article continues below advertisement
"That's why yours is getting destroyed now. Karma's a bitch, clink, clink," she said, while putting her wrists together as if they were in handcuffs.
Out of all places, Teresa Aprea chose Dina Manzo's Project Ladybug charity event, which raises money for children with cancer, to give the legally-troubled housewife a piece of her mind.
Dina even warned Teresa Giudice to avoid fighting with the twins during the event: "If anything happens from here on out, whoever starts it will lose a friend."
Teresa Aprea kicked off the brawl by bringing up Victoria Gotti, the one who told Teresa Giudice and Amber Marchese about the rumor.
She said, "What was said was obviously so disgusting and vulgar, anyone should be ashamed to repeat such a thing."
Teresa Giudice responded, "I didn't want to carry it on. I have my own problems … if the story did get delivered to you and it got twisted the wrong way, I just wanted Dina to know the truth.
Article continues below advertisement
"Nothing malicious came out of my mouth to hurt your family."
Aprea answered back, "If anyone has trash to say about me keep it to yourselves, especially when it's coming from trash. That woman Victoria, she's like, I wouldn't even call her an animal because animals are too good."
When Giudice defended her friend, Aprea said, "Did you hear what I said? What don't you get? I want to be friends with you, I don't want to hear sh*t."
Teresa fired back, "It was not like she was just gossiping … she was saying your husband told her."
Teresa Aprea's sister Nicole Napolitano then intervened by yelling, "Teresa, are you that stupid?"
The whole room went silent, as Dina Manzo said, "Here we go, calling her stupid. That's her button."
Teresa Giudice answered back, "No, I'm not stupid!"
When she calmly insisted that Victoria was not being nasty, Teresa Aprea said, "You really think she wasn't being nasty? Please answer so let me see your intelligence."
Article continues below advertisement
The old Teresa Giudice would have been held back from charging the twins by now, but the new Teresa?
"I like you girls a lot, I really do. I want us to be good cause I wasn't trying to hurt you. Out of all three of you, who I felt the closest to is you Teresa Aprea," she unexpectedly said to end the confrontation.
Aprea answered, "So let's make a deal. If it's between us let's talk about it and hash it out and knock each other out, but if it's about anyone else in my family leave it to the curb or the trash. Don't repeat it... Fair enough?"
"Fair enough," Teresa Giudice said as the two hugged.
She then said in her confessional, "Try to be happy everyday because you never know what tomorrow's going to bring."
The episode fast-forwarded six months to Teresa and Joe Giudice's Oct. 2 sentencing for their fraud and taxation charges.
While viewers only saw Joe and Teresa Giudice walk in and out of the courtroom, they saw the reactions of Jacqueline and Chris Laurita, Kathy and Rich Wakile, Rosie Pierri, Amber and Jim Marchese, Nicole Napolitano and Bobby Ciasulli.
Article continues below advertisement
"They're arguing for Joe to get the minimum," Jim explained to his wife Amber. "They're acknowledging that he has an alcohol problem and the judge does not seem pleased.
"Something about him not reporting certain things ... that's not good."
Not good is right, as everyone soon found out that Joe was sentenced to 41 months in prison, while Teresa received 15 months, a sentence that shocked the Garden State.
Kathy told Jacqueline, "We're totally blown away!" over Joe's sentence, as they hysterically cried when they heard Teresa's.
The first part of the Real Housewives of New Jersey reunion special airs Sunday at 8/7c on Bravo.