Exclusive
It's True! Victoria Gotti Passes Lie Detector Test Over Claims Rino Aprea Slept With His Mother-In-Law — See The Proof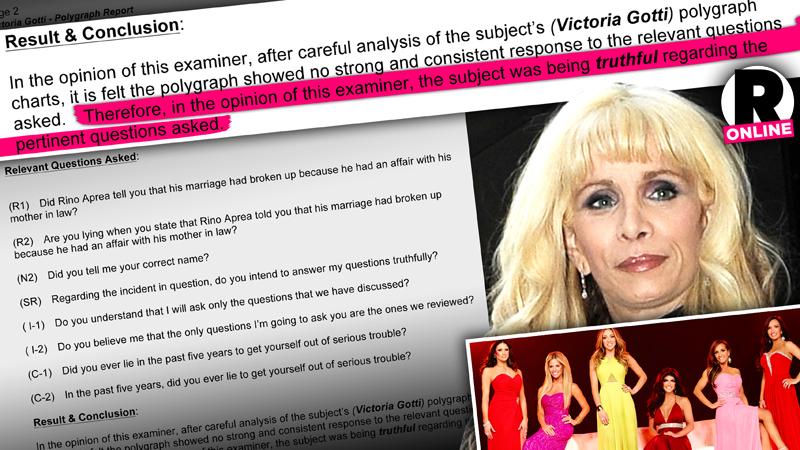 The Real Housewives of New Jersey star Rino Aprea has continued to deny claims he cheated on wife Teresa with her mother, Santa. But now, RadarOnline.com has learned, the woman who started the rumor, Victoria Gotti, is standing up to defend herself. RadarOnline.com has exclusively learned that Gotti recently took a lie detector test over the claims — and passed! The mobster's daughter is now challenging the stars of the Bravo show to take a polygraph test as well, and settle the rumor once and for all.
Article continues below advertisement
As RadarOnline.com has reported, RHONJ viewers were stunned when Gotti told Teresa Giudice and Amber Marchese that Rino Aprea had claimed he had sex with his mother-in-law. Teresa Aprea, her twin sister, Nicole Napolitano, and Rino, have all denied the claim.
But on October 3, blonde beauty Gotti took a voluntary polygraph examination and passed.
According to the results, obtained exclusively by RadarOnline.com, an investigator asked Gotti, "Did Rino Aprea tell you that his marriage had broken up because he had an affair with his mother in law?," "Are you lying when you state that Rino Aprea told you his marriage had broken up because he had an affair with his mother-in-law?," "Do you intend to answer my questions truthfully?," and "Did you ever lie in the past five years to get yourself out of serious trouble?"
Judd Bank of CPI Investigations, the lie detector examiner, stated in his results, "After careful analysis of Victoria Gotti's polygraph charts, it is felt the polygraph showed no strong and consistent response to the relevant questions asked. Therefore, in the opinion of this examiner, the subject was being truthful regarding the pertinent questions asked."
Sources told RadarOnline.com Gotti decided to take the test because she had felt bad about how "things unfolded" on the show.
'She is absolutely disgusted by the comments, behavior and complete lack of dignity of the other women," an insider told RadarOnline.com. "She was manipulated into revealing the story about Rino by Teresa and Amber, and became the fall guy for something that had nothing to do with her. Victoria is appalled by how these women have acted."
Gotti's rep, Steve Honig confirmed his client did take the test, and added, "It would certainly be interesting if some of the others involved in this situation took a polygraph as well."