Exclusive
Lights, Camera, Action! Bravo Ignores Teresa Giudice's Plea Not To Send Cameras To Sentencing Hearing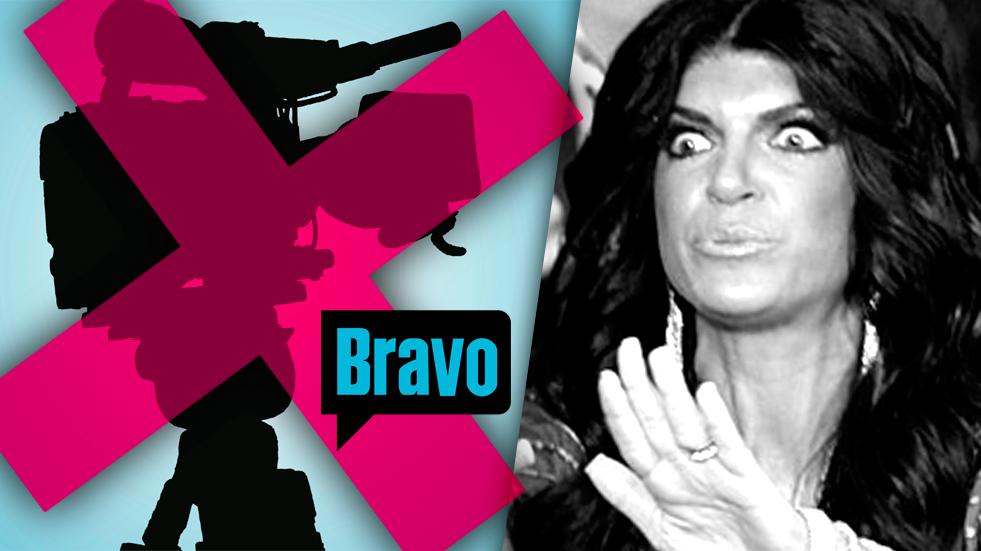 Real Housewives of New Jersey star Teresa Giudice has told Bravo not to send cameras to her upcoming sentencing hearing, but the network is ignoring the missive and plans on using it during the filming of the reunion show, RadarOnline.com is exclusively reporting.
There have been mounting tensions between Giudice and Bravo because the diva has refused to film additional scenes for the show because of plunging ratings.
Article continues below advertisement
"Teresa doesn't want cameras from Bravo to be at her sentencing on September 23, and has told producers of the show her thoughts. Bravo doesn't care what Teresa wants or thinks, and they are done protecting her," a source told Radar.
"So, Bravo will absolutely send cameras and plans on utilizing for the reunion show. It's no secret that the ratings are in the gutter, and Bravo knows there will be a lot of drama during Teresa's sentencing."
The New Jersey table flipper believes that the network has exploited her legal issues in pursuit of ratings.
Giudice recently lost her patience after Bravo arranged for her to do a sit-down interview with the New York Post which "ended up being an absolute hatchet job," according to the insider.
Despite her desire to spend time with family in the face of her legal issues, "Teresa agreed to do a limited amount of press to promote the Real Housewives of New Jersey," the source says.
MORE ON:
Celebrity Justice
Article continues below advertisement
"Bravo insisted that she do the interview with the paper. During the interview, Teresa felt the direction of it was negative, but the Bravo publicist did nothing to stop it, or get it back on track. Teresa felt the publicist should have done more to protect her, or stop the interview."
Bravo have become frustrated because the fan favorite has decided to keep a lower profile ahead of her looming sentencing hearing, and scaled back on promotional appearances.
Our source previously told us, "It's very frustrating for Bravo . . . They tried to tell Teresa that she was contractually obligated to show but her legal crisis manager, Wendy Feldman, shut that down. Teresa's contract is actually very loose, and doesn't clearly dictate what media she must do."
Expect Giudice to show up for her sentencing hearing "with her hair and make-up professionally done, and wearing a brand new outfit. Even though Teresa would prefer that no news crews cover the sentencing, she will look her best," the insider said.