Exclusive
Teresa Giudice Betrayed Victoria Gotti In Rino Aprea's Cheating Scandal, Source Claims – She Was 'Stirring Up Drama'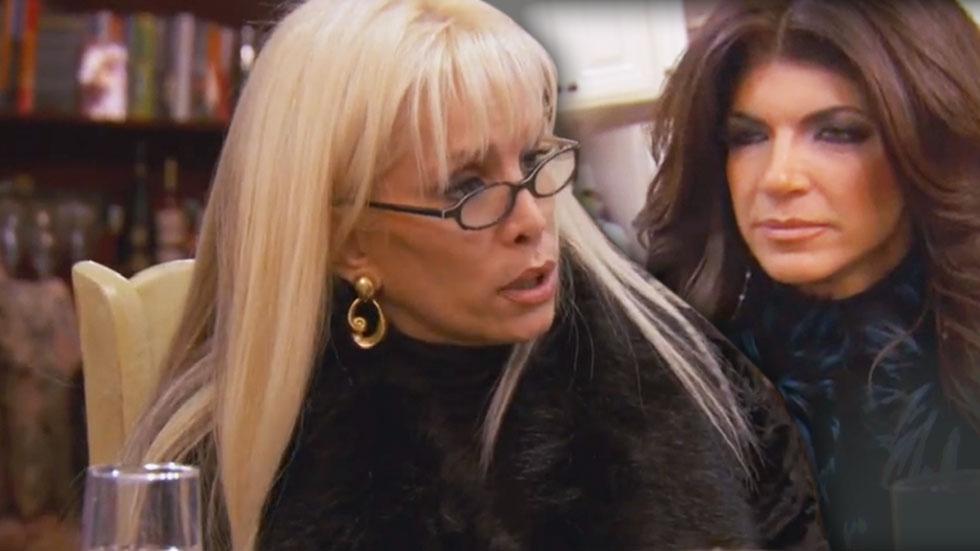 Real Housewives of New Jersey star Teresa Giudice can use all the support she can get these days. But RadarOnline.com has learned that her friendship with long-time confidante Victoria Gotti is on the rocks, after the shocking claim that co-star Teresa Aprea's husband, Rino, slept with her mother was revealed on the show. According to an insider, Giudice blamed Gotti from bringing the rumor to light, when she'd already known it all along!
Article continues below advertisement
RHONJ viewers were stunned when Gotti told Giudice and Amber Marchese that Rino Apprea had told her he had sex with his mother-in-law, Santa. The shocked duo claimed on-camera that it was the first time they had heard the allegation.
However, sources close to the situation told RadarOnline.com, "Teresa and Amber should get an Academy Award for that performance!"
"Viewers believed that it was the first time Teresa and Amber had ever heard that," the source added. "Not true! Victoria had actually told Teresa several months earlier while the two were out one night."
Not only did Giudice allegedly already know, but the source also tells RadarOnline.com that she was just trying to salvage her presence with the people behind the scenes!
"For Teresa to go on camera and act like it was the first time she had heard it is just a blatant lie," the source continued. "Teresa was obviously trying to get back in the good graces of the show's producers. Everyone on the cast had been talking about Rino being involved with his mother-in-law - it was hardly a secret."
Article continues below advertisement
"Teresa was just stirring up drama, but didn't want to be portrayed as being the instigator," the source said. "Teresa and Amber cooked up this whole scheme in advance."
The claims emerged when Giudice and Marchese stopped by Gotti's house.
Gotti explained she met Aprea while out to dinner at his restaurant. After knowing him for only two weeks, she claimed, he gave her a diamond Rolex watch while she was recovering from surgery in the hospital. Despite thinking that he was nuts, she said, Gotti continued a friendship with him.
PHOTOS: The 'Real Housewives' Hall Of Shame — 18 Bravolebrities Who Said Cheese For Their Mug Shots!
"One night we were all out as a group in his restaurant. He started talking about his divorce and he tells me this crazy story," Gotti said on the show. "He said, 'It's something that she will never forgive me for'… and I said, 'You cheated?' And he went, 'Yeah.' And I said, 'If the love is strong enough she'll get over it' and he went, 'No.' I went, 'So you cheated more than once?' And he said, 'No, it's who I cheated with… Her mother.'"
Gotti's rep, Steve Honig, refused to comment on the matter.
Our source added, "Victoria is just saddened that Teresa would betray her like this. She has always been a truly supportive friend to Teresa, and has offered anything she can do to help with all of the Giudice's legal problems."