Bye Bye Boca! Dina Manzo Tells Amber Marchese, 'I'm Sorry That You're Married To A D*ck!' Before Kicking Her & Jim Out Of Vacation House On 'RHONJ'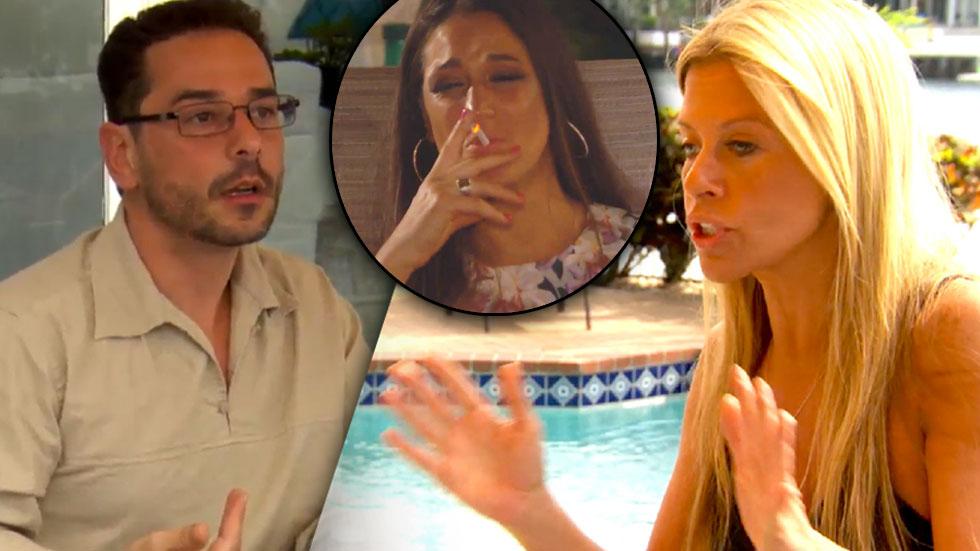 Article continues below advertisement
When Jim responded that Bobby had showed him pictures of her, Nicole's boyfriend said, "He's a f*cking lying sack of sh*t!"
Jim fired back, "Put a ring on her finger big guy," commenting on Bobby's hesitation to propose to his girlfriend of over a year.
Amber then left the room with a cigarette in her hand, as Teresa told Jim, "Why don't you come outside and see that you have your wife smoking? She's even on my side, scary.
"It's so funny about an hour ago I was like, 'Wow he's so sweet,' but guess what? You're such a farce. Everything about you is a farce."
Dina Manzo, of course, couldn't help but tell off the newest cast husband.
"He definitely has a vagina," she began. "Amber, I'm sorry that you're married to a d*ck! I'm sorry, I feel bad for you."
When Teresa added that Jim had the Napoleon complex, Jim fired back, "You're husband tried to f*ck Gotti so he could be a wannabe gangster. And the Russian stripper he was banging in between? Come on!"
Article continues below advertisement
"Do you think he didn't date a stripper?" Teresa asked.
Jim then responded, "No, but I think he f*cked your mom!"
Why did Jim spill a rumor that he promised his wife he would keep a secret? In the words of Joe Gorga: "You know what your problem is? Your mouth bro, you're f*cking mouth!"
After a moment of silence and dropped jaws, Teresa said in her confessional, "I'm speechless. He could just get a shovel because the man digs his own grave."
Jim then explained that he started trouble with the twins because they got into a physical fight with Amber during the first responders party.
But that wasn't the only feud of the evening. When Teresa discovered that Dina, Amber and Teresa Giudice knew the rumor beforehand, Teresa blamed Dina.
"I'm used to Jim's vulgarities and being attacked by him, but what hurt me was that all of the girls that I thought were my friends were talking about these rumors behind my back," Teresa said. "By taking part of that conversation, they just disrespected my family."
Article continues below advertisement
When Teresa told Dina, "Don't you dare talk about my mother," Dina shot back, "I never said anything about your mother! Now I'm getting turned against?"
The next day, Jim cooked eggs in the kitchen while his wife tanned poolside as if Jim didn't just spread infidelity rumors the night before.
Dina then told them, "Jim, I feel like you crossed a line in many ways. It's a horrible rumor that Victoria, for some reason, chose to share."
Amber responded, "I feel for her, I feel for them. But at the end of the day, you get your sh*t together. You know it's not true, and you move on."
An annoyed Dina said, "Amber, you're sitting there in your bikini with your gold jewelry on like this is no f*cking big deal.
"What I am going to do now is I am going to ask you kindly to leave: Get up, pack your bags and go."
Meanwhile in New Jersey, Teresa and Joe Giudice – who were sentenced on Friday to 15 months and 41 months in prison, respectively, for their fraud charges – spent their evening with a quiet date night at a NYC hotel to get away from their own drama.
"Joe is romantic and always knows the right thing to say. He always makes me feel safe and loved," Teresa said. "I know that Joe and I have challenges coming up. It's not going to be easy, but I love my husband."
The Real Housewives of New Jersey airs Sundays at 8/7c on Bravo.